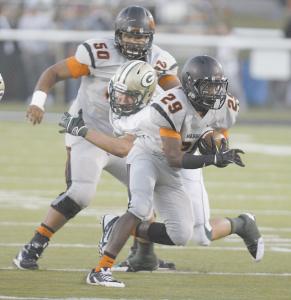 Tigers edge Golden Eagles in third OT
Sep 06, 2013 1:25 AM

BY JIM THOMAS

Repository sports writer

MASSILLON The prototype is off the drawing board and officially onto the playing field.

Massillon's Danny Clark, a 6-3 left-handed freshman quarterback — called "The

Prototype" for his size and arm — had his first start Thursday night at home against GlenOak.

It was memorable for many reasons.

Though far from perfect, Clark and the Tigers managed a 23-20, three-overtime victory over the Golden Eagles at Paul Brown Tiger Stadium. An Andrew David 20-yard field goal in the final OT, followed by Massillon goal-line stand to end the game, allowed the Tigers to survive a wild night.

The night began with Clark starting at QB in place of David, a junior. Clark threw a good block to spring Lyron Wilson for 23 yards on the first play from scrimmage. On his first pass, he found Reggie Rogers on a post for an 18-yard touchdown. On third-and-goal no less.

Clark then led an 11-play, 81-yard drive that gave Massillon a 13-10 lead late in the fourth quarter. But a fumbled snap — the third lost fumble for Massillon and its fifth turnover — allowed GlenOak's Stephen Palombo to kick a 31-yard field goal that sent the game to overtime at 13-13.

It was poetic justice that David kicked the game-winning field goal in the third OT session. The Michigan recruit missed a PAT and three field goals before converting from 20 yards.

Massillon's defense, as it had done all night, then held GlenOak on two plays from the Massillon 2-yard line. GlenOak quarterback Austin White was stuffed on third down and running back Jason Simon was stonewalled for a loss to send the Massillon fans into hysterics.

"They just brought the house at us all night," Massillon head coach Jason hall said. "We didn't do a great job.

"On the other hand, we just kept battling and battling. We didn't play our best game but our kids persevered in the end.

"That's why it's great Stark County football.'

The Golden Eagles sacked Clark six times and nailed him for loss on runs, or scrambles, four more times. Add in the two picks and three fumble recoveries and GlenOak's defense played great in defeat.

"I'm so proud of the way our kids played," Glen Oak coach Scott Garcia said. "I thought our team grew up tonight."

Of blitzing Clark all game, Garcia said it was a must.

"We couldn't sit in our base defense all night," he said. "Those big 270-pounder (linemen Massillon has) would have moved us all over."

GlenOak just could not muster an offense.

The Golden Eagles used the second pick, by Kejuan Kelly at Massillon's 31, to get on the scoreboard. Starting from the Tigers 22, Simon ran the ball five straight plays as GlenOak's offense finally got physical.

Simon scored from 2 yards out and Stephen Palombo's point-after kick was good for a 7-6 halftime lead.

But Clark's 81-yard drive in the face of defeat was pretty. He capped it with a 10-yard pass to Marcus Whitfield to make it 13-10.

The fade to Rogers, a 21-yarder on first down in OT, was equally pretty. Clark finished 14-of-24 for 170 yards.

"Once you make the switch (to Clark), you can't go back," Hall said.
Edited: Sep 06, 2013 6:54 PM by Friday Night Ohio