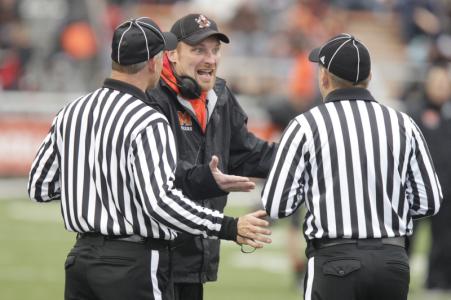 Q & A on Ohio's new concussion law
Aug 26, 2013 10:06 AM
Here is an overview of how Ohio's new concussion law works. House Bill 143 was signed into law by Gov. John Kasich on Dec. 20 and went into effect April 26.
Does Ohio's concussion law cover just Ohio High School Athletic Association sports?

No. The law covers all sports for kids ages 19 and under. This includes club sports at the high school level (such as lacrosse) and all youth sports in which athletes are required to pay to participate or whose cost to participate is sponsored by a business or a nonprofit organization. Examples include YMCA/CYO sports, AAU basketball, Junior Olympic volleyball, Little League baseball and Pop Warner football.
What does the law require of parents/guardians?

Parents or guardians must sign a form stating that the parent or guardian has received a concussion and head injury information sheet. An athlete cannot participate in practice or competition until this form is completed.
What does the law require of coaches and referees?
Coaches and referees are required to complete free, online training on recognizing the signs and symptoms of concussion and head injury every three years. At the interscholastic level, coaches and referees are required to remove from play any athlete exhibiting signs and symptoms of a concussion. At the youth sports level, a supervising official of the sports organization holds this responsibility as well.
When can the athlete return to play, and who makes that decision?
An athlete who is removed on suspicion of concussion cannot return that day even if, after further evaluation, it is determined there was not a concussion. The athlete can return the next day if cleared in writing by a physician or licensed health care provider authorized by the school or youth sports organization that the athlete did not sustain a concussion. An athlete with a concussion also must receive written medical clearance to resume athletic activity, followed by a recommended five-step exercise progression.
If a parent disagrees with a coach or referee's removal of an athlete, can the parent's wishes override the decision?

No. An athlete removed on suspicion of concussion cannot return that same day regardless, of what the parent thinks.
— Josh Weir

Edited: Aug 26, 2013 10:17 AM by Dwight Kier