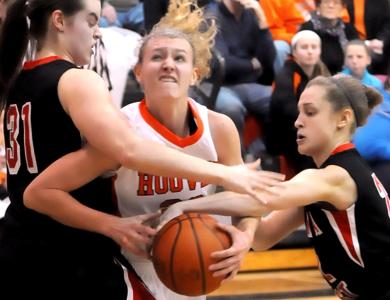 Hoover defeats Lakota West 56-49 in energetic game
Jan 19, 2014 8:21 PM
BERLIN A Sunday in Berlin was like spending a leisurely afternoon at grandma's house for the Hoover Vikings. Or so you might think.
Not when it's the Classic in the Country.
Hoover and Lakota West expended enough energy to light up the Perry Reese Center at Hiland High School, so hard did they go at it. The Vikings simply did it a bit better when it counted as they downed the Firebirds, 56-49, for their 14th victory in 15 games.
Julie Worley scored a breakaway layup at the third quarter buzzer on Kaylee Stroemple's perfect lead pass to put Hoover up 42-40. Marquia Turner nailed back-to-back shots over Firebirds super soph Nia Staples to open the fourth quarter, giving the fifth-ranked Vikings a five-point cushion that didn't shrink less than four points the rest of the way.
"It was an energetic game, everybody was in it," said Turner, who popped in 17 points and had three steals. "It was very exciting, The crowd definitely played a part in it.
"It was just a great atmosphere to play in."
One that Turner, Vikings seniors Worley, Kelsey Lensman and Stroemple know like the back of their hands.
"It's my fourth year (here), I'm feeling old," said Turner, who was on the McKinley team her previous three visits to the Classic.
Worley matched Turner's 17 points for game scoring honors before a jammed house. The Ashland University recruit hit 6-of-8 from the floor, was 5-of-7 from the line and grabbed a game-high nine rebounds.
In Worley's last three games in Berlin, she is 25-of-33 from the floor (.758) with 25, 17 and 17 points.
"I love playing here!" Worley said. "I love playing with my team, and it's just so much fun because the crowd is so into it."
Like Worley and Turner, Lensman played both ends of the court in her third stint in Berlin. The 5-7 guard had all seven of Hoover's points in the third quarter before Worley's layup and finished with 10. Lensman then held Firebirds sharpshooter Lauren Cannatelli scoreless in the fourth, after she scored all five of her points in the third to get Lakota West back in the game.
"I've got to give mad props to Kelsey Lensman," Hoover coach Abbey Allerding said after Cannatelli went 2-for-11 from the field. "She gave us terrific defense. (Cannatelli) is a great player and she battled defensively.
"It was a very big game for Kelsey."
Stroemple and Maddie Blyer came up big too. Stroemple had eight points, six rebounds and four assists, while the freshman Blyer came off the bench in the first quarter, buried her only fielder and went on to dish out five assists, one less than the Firebirds had as a team.
While Hoover spread the wealth scoring, passing and defending, Lakota West was left to rely heavily on Staples, the team's only player to score in double figures. Staples, rated the nation's 13th-best point guard in the Class of 2015 by Ohio Girls Basketball Report, went 6-of-10 from the floor and led her team with 16 points.
Up next for Hoover at the Classic in the Country: Regis Jesuit of Colorado. The Vikings battle one of the nation's top 10 teams in most polls at 1:30 this afternoon. Regis Jesuit also won its opener in Berlin, a 78-56 rout of Cincinnati Princeton on Saturday.
Edited: Jan 19, 2014 8:21 PM by Bob George