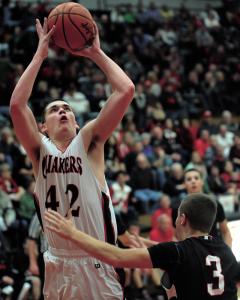 Boose leads New Philadelphia over Rosecrans
Jan 10, 2014 11:37 PM
NEW PHILADELPHIA The bunch off the bench gave New Philadelphia a jolt of defensive energy Friday night.
And it was more than enough to carry the Quakers to a solid win over Zanesville Rosecrans in an East Central Ohio League game.
New Philadelphia improved to 7-5 overall and 3-2 in the ECOL after limiting the Bishops to 24 percent shooting (10-of-42) and rolling to a 57-35 victory. The Quakers pressured the youthful Bishops (only one senior on the roster) early and Rosecrans (5-6, 2-4) made only five shots in the first half, all on long 3-pointers.
"We're trying to get back to playing hard all game long, and that's our emphasis right now," said New Philadelphia head coach Chad Spurgeon.
"I thought we got a good effort, and I thought the guys who came off the bench in the first half (seniors Skyler Dillehay, JoVohn Morrow and Dimitri Walker) gave us a great lift, especially with their energy and defense."
Walker had a strong stretch in the second quarter. The 5-foot-10 guard played lockdown defense on the ball and hit a nice 3-pointer as the Quakers stretched a 14-9 lead after the opening quarter to 32-18 at the half. Senior post Ethan Boose dominated inside, scoring 19 of his game-high 23 points in the first half.
"To win a lot of basketball games, you've got to play tough (defense)," said Walker. "We're doing pretty good right now, but if you want to get far in the tournament against good teams, you've got to play 'D' and play together as a team."
The Quakers took away any suspense in the third quarter, holding Rosecrans to five points and carrying a 51-23 lead into the final period. That allowed both teams to play everyone in uniform.
"We're working on a lot of things and getting that effort throughout the game is primary," Spurgeon said. "That's a young Rosecrans team and I thought we maintained our focus pretty well on both ends of the court."
Walker and sophomore guard Braden Young were the second-leading scorers on the night for the Quakers with eight points apiece, while senior guard Caleb Beans added five. New Philadelphia made 25 of 53 shots (3 of 18 in 3-point attempts) and four of six free throws. The Quakers held a 36-28 rebounding edge as senior Marco Colombo grabbed six.
Rosecrans, which made only six of 24 3-pointers, got nine points each from Jared Cox and Mason Fisher (three 3-pointers), suffered 17 total turnovers. Elliott Start added five points for the Bishops.
Walker said the Quakers know that it is important to start playing their best basketball in the season's second half, for a lot of reasons.
"We want to be coming together as the tournament gets here," he said. "This is my senior year and I want to help the team out the best way I can and be there when they need me on offense and defense."