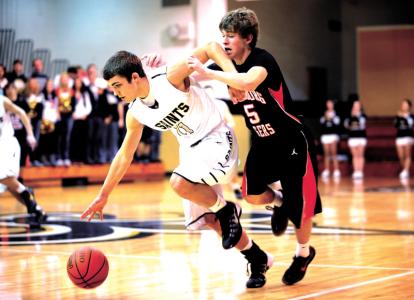 TCC turns on the offense for win over Strasburg
Jan 03, 2014 11:25 PM
NEW PHILADELPHIA The offense was the biggest difference as Tuscarawas Central Catholic High School posted a 53-35 victory over Strasburg in an Inter-Valley Conference game Friday night.
With the win, Central improved its league record to 3-2 and 7-3 on the season. Strasburg fell to 2-7 and 2-5.
Central head coach Tyrone Miller said he was happy with his team's performance.
"I thought we executed pretty well offensively in the first half," said Miller. "We had a lot of good open looks that we knocked down."
The opening quarter of action started out well for Central when Max Fragasse, with some help from Mitch Herron, jumped out to an early 7-0 lead.
It wasn't until inside the 5-minute mark that Landry Hostetler gave the Tigers their first points of the night.
Then Central and Strasburg traded scoring. The buzzer gave the Saints the upper hand, 15-10, at the end of the first quarter.
In the second frame, five Central players scored, with Herron and Beau Beamer each contributing a 3-pointer to have the Saints lead 33-19 at the half.
Kole Bitifoker scored nine of the 16 second-quarter points for Strasburg.
In the third quarter, Central scored 16 points, nine of which were 3-pointers.
Even though the Saints' defense was able to keep the Strasburg scoring to just eight points, Miller said his team's defensive abilities weren't the best they've been.
"We didn't play as well defensively as we're capable of, but we were throwing a lot of guys in there, putting them in new spots," said Miller.
But in the anti-climatic final frame, the Strasburg defense stepped up to prevent another scoring run from Central as they gave up just four points. The attempt from Strasburg to get back in the game was knocked down by Central's defensive action that only allowed themselves eight points to bring the final score to 53-35.
Strasburg head coach Dave Potopsky said that part of the reason for the loss comes from a gap in experience on the bench.
"We've got kids that need experience," said Potopsky. "We're asking kids to play that have never played in certain positions because we have three starters out because of injuries. And I thought tonight we played harder and did things well in spurts."
Potopsky also added that until the injured players can return, his team has to "hold the fort down."
"We as coaches see they're making strides and that there's progression, we just need more of it," Potopsky said. "If they play hard, coach can't be mad. They're working hard and we had really good days of practice and we're getting better. It's baby steps for some of the kids."
Herron was the powerhouse for Central as regular scoring leader Michael Teater sat the game out to nurse an injury.
Herron put up 18 points and was 3 of 5 from beyond the arc.
"Mitchell was really aggressive tonight," Miller said about the 5-10 junior. "He had sat the last couple games out, so he was hungry to go out and have a good performance, so he was really aggressive from the start. And that's what we need from him to have big games."
Fragasse also double dipped in points after scoring 10 and Alex Milleman grabbed down five boards amongst his nine points.
Bitifoker led Strasburg with 12 points as Landry Hostetler followed with 11. Nick Froman, who has sat the last seven games, picked off six rebounds.
Tonight, the Saints play at home again as they host St. Thomas Aquinas.
"St. Thomas Aquinas is a really good team," Miller said about tonight's foe. "We're going to have our hands full. They play a lot of guys and they play a fast tempo, so we're going to have to come ready to play a little better than we did tonight."
Miller noted that Teater will be playing in tonight's game.
Reach Alex at 330-364-8425 or
alex.knisely@timesreporter.com
On Twitter: @TRAlexSports