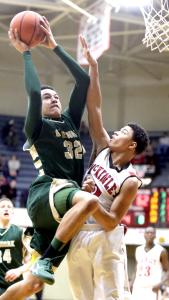 High school boys basketball report for Jan. 3
Jan 03, 2014 11:03 PM
Federal League
Golden Eagles stop Bulldogs

GLENOAK 74, McKINLEY 52 Brandon Grider scored 19 points for GlenOak as the Eagles rolled to a Federal League boys high school basketball road victory against the Bulldogs on Friday night.

GlenOak outscored McKinley 18-6 in the second quarter to take a 38-21 lead into halftime.

Jake Merrell scored 14 points for GlenOak.

Paul Ortiz hit four 3-pointers for McKinley and scored a game-high 22 points.

Spartans' fourth-quarter surge downs Hoover

BOARDMAN 68, HOOVER 66 Preston Stitt hit a pair of go-ahead free throws with six seconds left to lift the host Spartans past Hoover in a Federal League matchup.

Matt Zehnder, who led the Vikings with 20 points, missed a 3-pointer at the buzzer.

Hoover led by seven after three quarters, but Boardman outscored the Vikings 21-12 in the final quarter.

Nick Evans added 15 points for the Vikings, while Tony Iero finished with 14. Iero also grabbed a team-high eight boards.

Brian Fryda connected on seven 3-pointers and scored 23 points to lead Boardman.

NORTHEASTERN BUCKEYE

Kukura, Aviators romp over Lions

ALLIANCE 70, MINERVA 50 Senior JJ Kukura poured in a game-high 39 points, as the host Aviators rolled past Minerva at home in a NBC matchup.

Alliance doubled the Lions in the first and fourth quarters, outscoring them 40-20. Kukura did the rest, totalling 13 points in the second quarter and 14 in the third.

Kordelle Phelps added 10 points for Alliance.

Jantsen Locke's 16 points topped Minerva.

Leopards edge visiting Carrollton

LOUISVILLE 59, CARROLLTON 58 Drew Noble had 16 points to pace four Leopards in double figures, as Louisville tripped up visiting Carrollton.

Jake Puyks made a trio of 3-pointers and scored 11 points and Austin Shaheen and Blake Hoover added 10 apiece for Louisville.

Caleb Pasiuk canned five 3s and had 27 points for the Warriors.

Wildcats hold off West Branch

CANTON SOUTH 62, WEST BRANCH 51 Malik Campbell scored a game-high 21 points to lead Canton South to an NBC road win over the Warriors.

Josh Lyon added 14 points for the Wildcats.

West Branch had three players score in double figures. led by Kyle Zeigler's 14 points.

Jerian thomas scored 12 for the Warriors and Kip DeShields added 10 points and grabbed 15 rebounds.

Mason double-double jars Quakers

MARLINGTON 76, SALEM 67 Thomas Mason scored 21 points and grabbed 15 rebounds for Marlington in a home victory over the Quakers.

Chris Andrews added 18 points for the Dukes, who also got six assists from both Mason and Andrews.

Max Wolfgang scored a game-high 22 points for Salem.

PAC

Royals erupt in the third to stun Panthers

CVCA 57, MANCHESTER 25 Mike Peters poured in 17 points as the Royals rolled at home for a PAC-7 victory.

CVCA held a 25-15 lead at half and then broke the game open in the third quarter by outscoring Manchester 16-1.

Braves drain free throws to sink Trojans

INDIAN VALLEY 67, TUSKY VALLEY 66 The host Braves went a perfect 19-for-19 at the foul line to nip the Trojans for a PAC-7 triumph.

Dalton Bollon drilled six 3-pointers and scored 29 points and Shawn Mills went 12-of-12 from the charity stripe and added 17 points for Indian Valley, which outscored TV 32-19 in the final period.

Jordan Felgenhauer led Tusky Valley with 18 points.

Toles, Timken top Titans

TIMKEN 59, TRIWAY 53 LaPear Toles scored a game-high 22 points, as the Trojans gained a PAC-7 win on the road against the Titans.

Toles went 13-of-20 at the foul line. His effort from the stripe alone topped Triway, which was 11 of 17.

Timken, which led led 18-8 after the first quarter, got 11 points and eight rebounds from Clevon Pleasant and 10 points Darryl Straughter.

Parker Carmichael led the Titans with 19 points.

Others

Third quarter carries Irish over Crusaders

URSULINE 60, CENTRAL CATHOLIC 45 Visiting Ursuline went on a 19-4 run after halftime to break open the game and hand the Crusaders their sixth straight loss.

Justin Lyde's 11 points led Central Catholic, which was up 12-11 after the first quarter.

Knights lose late lead, game

CLEVELAND CENTRAL CATHOLIC 65, ST. THOMAS AQUINAS 63 (OT) Austin Hill scored 21 points for Aquinas, but the Knights came up just short in overtime.

Aquinas outscored Central 18-13 in the fourth quarter to force overtime.

Anthony Moeglin hit four 3-pointers and scored 16 points for the Knights.

Colts no match for Bulldogs

GREEN 54, CLOVERLEAF 27 Green had a big first-half performance on both sides of the ball in doubling up the Colts.

The Bulldogs raced to a 36-9 halftime lead.

Green used a balanced effort as 12 different players scored. Austin Marciniak and Nathan Reale both scored eight points for the Bulldogs.

INTER-VALLEY

Pirates work their way past Hornets

GARAWAY 64, MALVERN 51 Josh Werker finished with a game-high 23 points to lead the visiting Pirates to an Inter-Valley Conference win over the Hornets.

Trey Tucci led Malvern with 20 points, hitting 7 of 8 free throws. Mitch Loomis added 16 points and 11 rebounds for the Hornets (7-3, 5-2).

Hawks dominate against Cardinals

HILAND 69, SANDY VALLEY 39 Hiland jumped to a 25-9 lead after the first quarter and cruised to the IVC road victory over the Cards.

Hiland had a balanced scoring attack that placed four players in double figures, led by Bruce Troyer's 15 points.

Nate Shepler paced Sandy Valley with nine points.

Miller helps Hornets topple Generals

EAST CANTON 48, RIDGEWOOD 46 Hayden Miller scored 12 of his team-high 17 points in the first half as the Hornets earned an IVC win at home.

Bryce Moldovan added 11 points for East Canton.