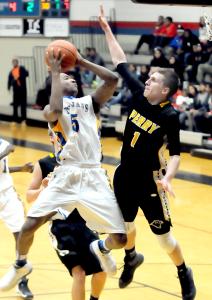 Timken turns up pressure to stop Perry
Dec 28, 2013 11:43 PM
BY MIKE POPOVICH
Repository sports writer

CANTON The Timken Trojans certainly are a handful when they turn up the defense.

Perry found out the hard way Saturday night.

Timken's pressure forced 19 second-half turnovers, and the Trojans pulled away to 66-52 boys high school basketball victory over the Panthers at Memorial Field House.

A 10-2 run to start the fourth quarter helped the Trojans (4-1) win their fourth in a row. Perry fell to 1-5.

"One of the things we talked about in the second half was having to turn it up defensively," Timken head coach Rick Hairston said. "We didn't play terrible defense in the first half, but it seemed like they beat us to every loose ball and got every loose rebound. I just thought they were playing a little bit harder than we were."

Perry turned the ball over 13 times in the third quarter alone, but trailed by just six. The Trojans, however, eventually wore out the Panthers in the fourth quarter and built their lead to as many as 18.

"Offensively I didn't think we executed very well, but our defensive pressure really saved us," Hairston said.

The Trojans had a chance to carry a nine-point lead into the fourth quarter, but three missed free throws with a tenth of a second left kept their advantage at 44-38.

It didn't take Timken long to take command in the fourth quarter.

Caleb Robinson hit a couple of baskets. Charles Lenix made a layup and sank a free throw. LePear Toles completed a conventional three-point play.

With just under five minutes left, the Trojans' lead was 54-40.

Toles finished with game highs of 23 points and nine rebounds for Timken. Traivon Ridley scored 12 points off the bench. Robinson added 10 points and eight rebounds.

Tariq Stinson and Darryl Slaughter, a freshman, also had good floor games for the Trojans at point guard.

"We're still in the process of finding out who is going to do what for us," Hairston said. "It's only our fifth game. We understand this season is a marathon. We're just at the beginning of it and there are a lot of things we need to work on, but I'm pleased to get a win tonight."

The win was Timken's first of the season outside the PAC-7. The Trojans also will face Division I nonleague opponents Massillon, St. Ignatius, Warren Harding, Hoover, Wooster and GlenOak this season.

Timken's only loss came in the season opener to Dublin Coffman, another Division I opponent.

"We want to make sure we take full advantage of having the understanding of how hard we need to play and how hard we have to execute to beat a team like a Perry tonight," Hairston said.

Wyatt Vega scored 13 points to lead Perry.