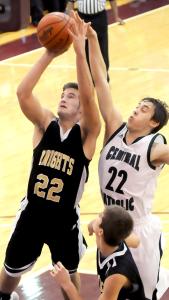 Aquinas earns ugly win over rival Central Catholic
Dec 28, 2013 12:44 AM
By Tim Rogers
Special to FridayNightOhio.com

NORTH CANTON As far as rivalry games go, this one won't go down in the annals of either St. Thomas Aquinas or Central Catholic high school.

Especially Central Catholic.

In a game in which the two private schools combined to turn the ball over 45 times and just one player scored in double figures, St. Thomas pulled away over the final four minutes and left Walsh University's Alumni Gymnasium with a 49-42 victory Friday.

"To be honest, it was one of the worst high school basketball games, both ways, I've seen," said head coach Matt Creamer, in his first season at Central but a veteran of more than 25 seasons as a head coach.

"Both teams threw the ball around. Both teams. They gave us opportunities. We gave them opportunities. It was not the kind of rivalry game I'm used to. It was very disheartening to see what our kids did.

"We didn't catch the ball, we didn't compete. It was just really upsetting."

St. Thomas head coach Matt Hackenberg wasn't quite as blunt, preferring to credit his team's defense.

"One of the advantages we thought we had was our ability to pressure their guards," he said. "That's a staple of the system we play."

Central turned the ball over 28 times to 17 for the Knights. Central entered the game averaging about 10 turnovers, while the Knights have a goal of forcing 20 turnovers each time they take the floor.

St. Thomas senior Austin Hill led all scorers with 23 points, with 20 coming in the final three quarters.

Hill, coming off a game in which he made eight 3-pointers to set the school record, was the most consistent player on the floor. The 6-foot-4 senior accounted for all 10 St. Thomas points in the second quarter with a pair of 3-pointers and two regulation baskets.

Both squads had trouble finding the basket in traffic. The Crusaders made 15-of-32 shots from the floor to 14-of-40 for the Knights. It was different at the foul line, where the Crusaders made 9-of-13 attempts to 15-of-23 for the Knights, with 12 of those coming in the final eight minutes.

St. Thomas (5-3) led for the entire first half and took a 24-19 lead into the break as Hill scored 13 of his 23 points. Using some balanced scoring, Central stormed back to build a 35-30 lead before momentum swung back in the Knights' favor.

Daniel Piero's banked-in 3-pointer with 54 seconds left pulled the Knights into a 35-35 tie through three quarters and was part of a 14-2 surge that began with a Hill basket with 1:36 left in the third, and ended with two free throws by Jacob Paul with 1:34 left in the fourth.

"It was 35-35 and the game was in our control, at our tempo and we went four straight possessions with not being able to get a rebound," said Creamer, whose team has lost four straight after opening with three wins. "We didn't finish. We didn't compete."

Paul, Piero and Anthony Moeglin backed Hill with six points each, while Jerry Leatherman and Spencer Rowlands had nine each for the Crusaders.

Creamer indicated that a different lineup will take the floor tonight when Central plays at Tuscarawas Central Catholic.
Edited: Jan 30, 2014 3:01 PM by Friday Night Ohio