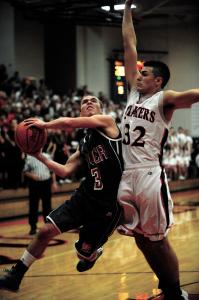 Dover squeezes out a 51-49 win over rival New Philadelphia
Dec 21, 2013 12:17 AM
NEW PHILADELPHIA Dover High boys' basketball coach Bob Von Kaenel just grins when he talks about this season's group of Tornadoes.
"Nobody knows who we are and if we went out without numbers on, nobody would know any of them," he said Friday night after Dover put away New Philadelphia 51-49 in the Quaker gymnasium.
"And you know what, I just love the way they play so hard and I really enjoy this group of kids. They battle from start to finish and they don't care who or what it takes to get it done."
The Tornadoes stayed unbeaten (5-0 overall and 3-0 East Central Ohio League Scarlet Division) after surviving a wild final minute as the Quakers fought back from a five-point deficit with less than 25 seconds remaining in the fourth quarter, but were unable to get any of three tying shot attempts to fall from point-blank range before the final buzzer sounded.
The victory also was the 400th career coaching win for Von Kaenel at Dover, and No. 542 overall.
"What a tribute to those kids from Dover tonight," said New Philadelphia head coach Chad Spurgeon. "They outworked us, they outplayed us, they simply did everything better than us all game long. We are suffering from a crisis of confidence right now."
The Quakers (2-4, 1-2) struggled to put together any type of a run of successful offense as Dover aggressively and confidently played tough defense possession after possession. Dover limited the Quakers to a rough 18-of-40 shooting night (including five of 13 in 3-point attempts), and New Philadelphia made only seven of 15 free throws.
"I don't know how we could have been more ready to play than we were tonight," Von Kaenel said.
"I mean, we had (Evan) Snyder out there really giving us a lot at both ends of the court, (Jordan ) Mills played his best game of the season so far, and we got big minutes and contributions from everyone in the lineup and off the bench."
Snyder led the Tornadoes with 15 points, Blake Blair had 13 and Cory Contini added 11. Dover made 16 of 33 shots and was especially effective at the foul line, canning 14 of 17 free throws. The Tornadoes were 11 of 13 from the foul line in the second half, including 10 of 12 in the fourth quarter.
Dover, which trailed 23-22 at halftime, outscored the Quakers 12-8 in the third quarter to hold a 34-31 lead. The Tornadoes were still up 46-42 with less than two minutes left in the contest when New Philadelphia senior wing Marco Colombo ignited one final push for the Quakers with one of his 3-pointers in the game to cut the margin to 46-45 with 1:56 left.
After New Philadelphia failed to cash in a Dover turnover, Contini upped the lead to 48-45 with a pair of foul shots with 40.5 seconds left and Blair added two more for a 50-45 lead with 24.5 seconds remaining. The Quakers' Ethan Boose then pulled in a rebound and was fouled on the stickback, with his basket and free throw making the score 50-48 with 15.2 seconds left.
On the ensuing inbounds play, New Philadelphia's Caleb Beans poked the ball away, Colombo recovered and was fouled on his way to the basket with 11.7 seconds left. He made the first of two free throws to make it 50-49 and Mills pulled in the big rebound before being fouled and converting one of two for the 51-49 margin. The Quakers then got three good looks at the basket from inside the lane, but all bounced out before the horn.
"We know that (New Phila) is really tough on defense because you can't screen them and you struggle against their size and length," Von Kaenel said. "So we thought we would just spread it out and see if we could create some space and get some driving room. I thought the kids did a great job of recognizing the opportunities that we did have."
The teams each grabbed 22 rebounds and Dover actually had more turnovers – nine – than the six for the Quakers.
Colombo led all scorers on the night with 27 hard-earned points, and Boose added 13, with nine of those coming in the fourth quarter. Colombo and Boose each had nine rebounds and the duo combined for all 18 of New Philadelphia's points in the final quarter, and all but two of the team's 26 points in the third and fourth quarters. No other Quaker scored more than three points.
"We struggle right now to run team offense," Spurgeon said after the Quakers' second straight two-point loss following Tuesday's 42-40 stunner at Zanesville. "We have difficulty understanding how to work together to get the best shot.
"It feels a lot like last year right now where we started so slowly and (Dover) beat us the first time we played. We have to work harder and smarter."
Von Kaenel also downplayed his latest coaching milestone in a career that is now stretching toward five decades.
"That's a lot of bus rides," he said with a chuckle. "But I do really like these kids and what they are doing. It's fun watching them play - and they really battle and really believe in each other."
Edited: Dec 21, 2013 12:17 AM by Bob George