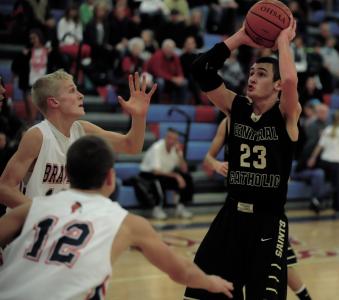 Guard play key to Tuscarawas Central Catholic's win
Dec 13, 2013 12:13 AM
Solid guard play by Central Catholic helped spur the Saints to a decisive 67-46 victory over the Indian Valley Braves on Thursday night.
Central guards Michael Teater and Mitchell Herron put on a shooting clinic in the first half, as they scored 19 and 11 points, respectively, to lead the Saints to a 38-17 cushion at halftime.
"Our guard play was sensational tonight and they did a good job getting to the basket and being in attack mode every time they had the ball in their hands." said Saints head coach Tyrone Miller.
Central came out of the gate strong, racing to a 12-0 lead before Indian Valley got on the board, thanks to a bucket by Brady Byers with 3:15 left in the quarter.
ATTACKING DEFENSE
Indian Valley never could recover from the big deficit, thanks in large part to Central's attacking defense, which forced six first-quarter turnovers.
The Saints were on fire shooting the ball in the quarter. Teater and Herron displayed sweet shooting strokes to go 8-of-12 from the floor, including two 3-pointers. Teater led the way with 10 points.
Defensively, the Saints plan was to collapse in the paint to try to shut down the 6-foot-5 Byers, and it worked.
"That was our game plan heading in." said Miller.
"We are going to be outsized in just about every game we play this year. It's important that we get weak side help down low, and our big guys did a good job of that tonight."
Trailing by 21 points at half, Indian Valley came out in the third quarter hoping to chip away at the lead.
But the Braves turned the ball over on their first two possessions, leading to four easy points for the Saints.
That increased their lead to an insurmountable 25 points.
The Saints would go on to shoot a blistering 10-of-13 from the field in the third quarter and finished the game shooting 76 percent overall.
Miller was impressed with Herron's defense as well.
"Mitch did a great job on both ends of the floor, but I was really impressed with his defense. He created several turnovers and really pressured the ball." said Miller.
Central had three players in double figures, led by Teater with 25, Herron with 17 and Alex Milleman with 12.
Indian Valley was led by Byers with 18 points. Shawn Mills chipped in 11.
Reach Jim at 330-364-8425 or jim.haynes@timesreporter.com
On Twitter: @JamesEricHaynes
Edited: Dec 13, 2013 12:14 AM by Bob George