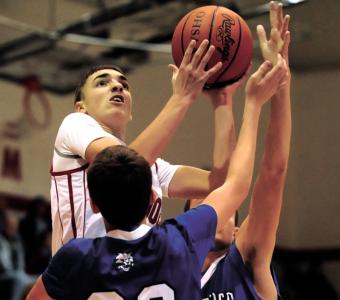 Tornadoes blow past Bobcats
Dec 07, 2013 9:24 PM
BY ROGER METZGER
Times-Reporter sports writer

DOVER A season-opening win over Cleveland Max Hayes on Wednesday got Dover off to a good start, but a Saturday encounter with East Central Ohio League foe Cambridge would tell more about the Tornadoes.

And they were mighty impressive.

Dover once again got good balanced scoring and the Tornadoes laid down some serious defense from start to finish in a dominating 67-32 high school boys basketball win over the Bobcats in the Tornado Gym on Saturday afternoon.

The game was originally scheduled for Friday night, but when it was snowed out the contest was rescheduled for a Saturday afternoon tip.

Junior Evan Snyder scored 17 points to lead four Tornadoes into double figures, while the Dover defense forced the Bobcats into 19 turnovers with a majority coming in the first half as the hosts took control.

Junior starters Cory Contini and Blake Blair and junior sub Austin Laughlin each added 12 points as the Tornadoes spread the scoring wealth around.

Dover (2-0, 1-0) hit 66 percent of its shots from the field (27 of 41) and held Cambridge to 40 percent (12 of 30).

Tornadoes head coach Bob Von Kaenel said he was pleased with the way his team played aggressively on both ends of the floor.

"I thought we rotated really well to the ball," Von Kaenel said. "I thought we played good team defense and made a lot of hustle plays."

Contini recorded five steals and Blair added four thefts as Dover posted 15 for the game.

"We had four kids in double figures and that's going to be a strength for us,'' noted the Dover coach. "We attacked the basket. We didn't settle for jump shots."

Jordan Watson and Clifford Clark each tallied 11 points for the Bobcats (1-1, 0-1) under first-year head coach Sheryl Weber.

Weber, who coached the Bobcats' junior varsity teams in recent years, is one of a handful of women in the state who are coaching boys on the varsity level.

"We are not a good half-court team right now," Weber said. "In order for us to be successful, we need to get the ball out and get up and down the court. Dover did a nice job of taking that away from us and forcing us to play their tempo.

"Anytime you play Dover, you know what you are getting — hard-nosed fundamentally sound basketball," she added. "Bob has been here forever it seems and has built a really solid program. He does a great job."

Dover took a 13-9 lead after the opening period and extended its advantage to 35-18 at the half as it forced the Bobcats into making 15 first-half turnovers.

The Tornadoes broke the game open in the third quarter as they continued to take advantage of Cambridge mistakes and carried a sizeable 50-24 lead into the final eight minutes.

Dover outrebounded Cambridge 20-13 as Blair led the way with four rebounds, while Snyder, Jordan Mills and Micah Keith each added three.

The Tornadoes were 9 of 13 from the charity stripe, compared with a 6 of 15 showing from the Bobcats.

Dover only turned the ball over nine times, with the majority coming in the fourth quarter when the contest had already been decided.