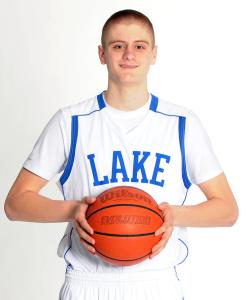 It wasn't pretty, but it was a win for the Lake Blue Streaks
Dec 06, 2013 11:49 PM
BY JOSH WEIR
Repository sports writer
NORTH CANTON It was early-season boys basketball at its finest — or worst.
Lots of energy and effort.
Lots of sloppy, disjointed play and inability to convert makeable shots.
For the Lake Blue Streaks, they are just happy to get out of North Canton's gym with a win.
The Blue Streaks pulled away late after trailing much of the game for a 45-36 win against Hoover in the Federal League opener for both teams.
"It was a gut-wrenching win," said Lake head coach Tom McBride, whose team made 1 of 8 3-pointers and overcame 16 turnovers. "Two games in a row we've missed a lot of bunnies, a lot of easy baskets that just went around the rim. Fortunately, they fell when we needed them to. I thought our experience showed up at the end of the game.
"So I'm really proud of the way the guys fought. It was a 32-minute game, and we had to play all 32 minutes."
Lake (2-0, 1-0), the defending Federal League champion, snapped Hoover's 19-game home winning streak while denying Randy Montgomery his 200th career win in North Canton.
The Vikings matched their biggest lead of the game at 34-26 when Tony Iero connected on a corner 3-pointer with 3:39 left in the third quarter.
It would be the final field goal of the game for Hoover.
The Vikings went the final 11-plus minutes without a bucket and didn't score again after Iero's 3 until a pair of Jake Jajack free throws with 5.7 seconds left.
"That's just a tribute to how hard we've been working in the offseason on defense," said senior forward Mitchell Spotleson, who led Lake with game highs of 18 points and 10 rebounds. "That's what coach McBride's been really stressing with us."
Iero and Nick Evans scored 12 points apiece for Hoover (1-1, 0-1), which missed its last 12 shots and committed eight of its 18 turnovers in the final nine minutes.
Lake stuck with a trapping 1-3-1 zone despite Hoover hitting five first-half 3-pointers.
Good decision.
"There were a couple of times we talked on the bench, 'Do we want to switch?' " McBride said. "We trusted our kids. And they were able to rebound out of it, which is hard to do sometimes in a 1-3-1."
Lake outrebounded the smaller but more tenacious Vikings 31-25.
For an inexperienced Hoover team with only one senior starter and just four seniors on the roster, Friday's performance wasn't pretty, but it was an effort from which the Vikings can build.
"I thought we hustled and battled," Montgomery said. "We're not where we need to be yet, obviously. We need to take advantage of some opportunities inside. ... We just couldn't get another big bucket there to stop the bleeding."
Hoover made only three 2-point field goals and finished the game shooting 25.6 percent from the field.
Lake took its first lead since early in the second quarter on a putback three-point play from Spotleson with 6:04 left in the fourth quarter. Spotleson also had a personal 8-0 run in the first half that erased an eight-point Hoover lead.
"Spotleson's a seasoned player," Montgomery said. "He made some big baskets when they needed them."
Sophomore Chandler Vaudrin got a third-chance bucket with 2:29 left to give the Blue Streaks some separation and put them up multiple possessions.
Caleb Peach scored 12 points for Lake.
Reach Josh at 330-580-8426 or josh.weir@cantonrep.com
On Twitter: @jweirREP
Edited: Dec 06, 2013 11:49 PM by Friday Night Ohio