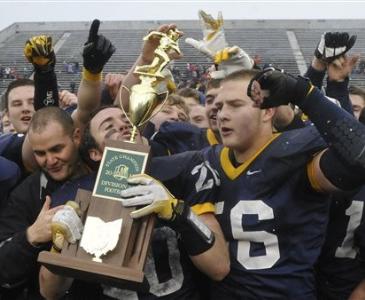 Division VI final: Kirtland claims second title in 3 years
Dec 06, 2013 3:04 PM
The Associated Press
CANTON Adam Hess rushed 177 yards on 22 carries, scored two touchdowns and added a pair of two-point conversions to lead Kirtland to a 44-16 victory over Wayne Trace on Friday in Ohio's Division VI state final at Fawcett Stadium.

Sam Kukura also did damage for the Hornets (15-0), adding 196 yards and a score as Kirtland, which has won 44 of its last 45 games, earned its second title in three years.

The squad logged the fourth-most total yards of offense in a state championship, finishing with 588 yards.

Wayne Trace (13-2) tied things up in the second quarter on a 41-yard touchdown pass from Colby Speice to Jake Arend. That woke up Kirtland, the top-ranked team in the Associated Press poll, and the Hornets rolled off 36 straight points on the strength of Hess and Kukura.

By halftime, the duo had 276 yards rushing and three touchdowns. It led to a 381-138 edge on offense at the break.

The haymaker in that first half came when Hess took over the game on two straight drives in the second quarter.

The special mention AP All-Ohio running back broke the 8-all tie with a 5-yard run. He then became the Hornets' featured back on a seven-play, 92-yard drive where he accounted for 78 yards and scored a touchdown to make it 22-8.

On the next possession, Kukura went virtually untouched on a 68-yard score to give the Hornets a 30-8 advantage over 10th-ranked Wayne Trace.

It wasn't just a matter of the Hornets' trademark run game. Quarterback Sam Skiljan got into the action with 133 yards passing and two touchdowns on a 6-of-10 performance with no interceptions.

With the Raiders loading the box, Skiljan used the play-action pass to near perfection with a 24-yard score to Ryan Loncar and a 51-yard strike to Matthew Finkler, who had three catches for 72 yards.

Kirtland, which has given up only 33 total points in three straight state finals, might have been at its best defensively as it faced Speice, the AP's Division VI co-Offensive Player of the Year.

Speice came in with an almost unbelievable stat line of 292-of-491, for 4,687 yards and 62 touchdowns. His 18-of-44, 262-yard, two-touchdown game against Kirtland looks pretty good on paper, but 148 of those yards and a score came after halftime.


Edited: Dec 06, 2013 7:53 PM by Friday Night Ohio