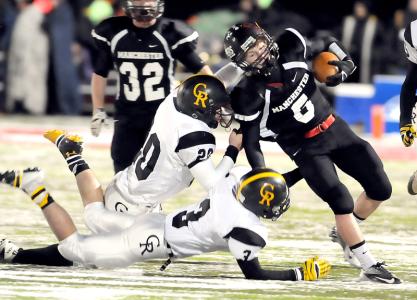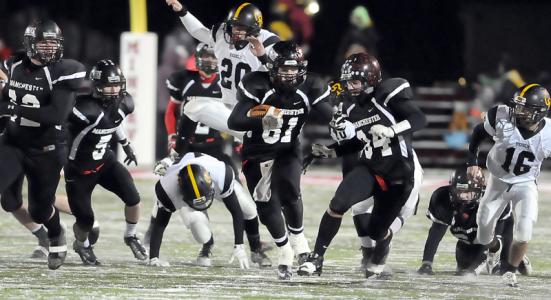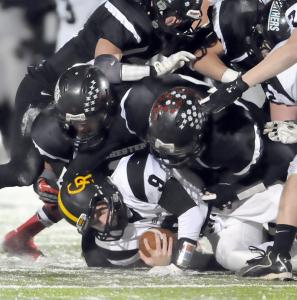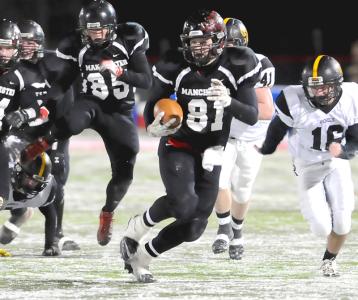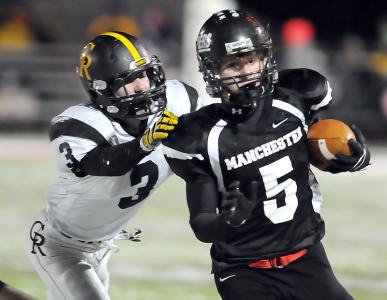 Coming off a unique win, Manchester hopes to keep a memorable postseason run going.
Nov 27, 2013 8:31 AM
BY JIM THOMAS
Repository sports writer
Jim France has seen a lot of football in his five decades of coaching at Manchester High School.
But the old ball coach said last week's Division V regional final against Columbiana Crestview was unique.
"We were talking about (the 69-21 victory)," France said. "I couldn't remember a game where we didn't throw a pass before."
Not only did the Panthers not throw a pass for perhaps the first time under France, they ran for more yards (600) and scored more points than in any of Manchester's previous 37 playoff games. Mason Hayes and Anthony Miltner both ran wild in the T-formation behind a powerful offensive line that cleared their way. Hayes ran it 25 times for 273 yards and five touchdowns. Miltner went for 191 yards and two TDs on 15 carries.
"Nothing they do surprises me," France said of his 11-2 team. "They just got it in their minds that they can play with anybody."
VIDEO: Coach's Corner w/ Jim France
That they can. The Panthers are in the state semifinals after winning three rounds in the postseason for the second time in school history.
They meet 12-1 Columbus Bishop Hartley on Saturday at 7 p.m. at Mansfield's Arlin Field.
"They are huge and very talented," France said of the Hawks. "They play a real tough schedule. We know we have our hands full."
France compared Hartley to Ursuline, Manchester's first-round foe that lost 19-16 to the Panthers on the game's final play. Ursuline was big, physical, relied on the run and had a stellar tradition that included four state titles.
The Hawks compare favorably to Ursuline. They have won two state championships, the last in 2010, and were in the state semis just last year. They had not lost a regular season game since 2010 until falling to defending state champion Coldwater 41-16 in Week 2.
VIDEO: Preview of Manchester-Bishop Hartley
They are big, from 6-4, 210-pound QB Jared Brandewie to 215-pound running back Sam Mackowiak to 300-pound guard Salvatore Reedus. And yes, Hartley runs the ball. It averages 330 yards on the ground and throws the football just eight times a game.
Mackowiak had the difficult task of replacing Ja'Wuan Woodley, the 2012 Division V Offensive Player of the Year after rushing for 1,904 yards and 27 touchdowns. Mackowiak has approached and could surpass those numbers, entering Saturday with 1,823 yards and 25 TDs.
He has four senior returning lineman to run behind, too.
"They get real tight, shoe-to-shoe," France said of Hartley's running game. "Once (Mackowiak) gets through the line of scrimmage, you've got to bring him down. He's got speed and moves."
While Brandewie doesn't toss it much, he does have stellar receivers to find in Jacob Mercer (30-729, 24.3) and Duke recruit Alonzo Saxton (16-321, 19.5). It adds up to an offense averaging 40.4 points.
France said his team's improvement on defense in the playoffs has been as key to his team's postseason run as the offense.
"Our big problem on defense was tackling," he said. "A 10-yard pass would become a 40-yard pass. Our tackling has been a whole lot better."
The best way to keep Hartley at bay would be to control the clock with the run. France is all for that after seeing Hayes' rampage through and around the line of scrimmage out of the full-house backfield against Crestview.
"We started in the T-formation and then what happened is we had so much success ... that we just stayed in it," France said. "Hayes only played a little more than half the game. He's tough a hard-nosed kid.
"He just became our running back. He was a receiver — that's why he wears No. 81. He's got good hands. But in the T, he becomes the fullback. He's pretty hard to bring down."
VIDEO: Player of the Week - Mason Hayes
It's hard to bring this team down now, too, France said.
"They've already won three more games than anyone thought they would," he said. "They just want to keep playing."
Reach Jim at 330-580-8336 or
jim.thomas@cantonrep.com
On Twitter: @jthomasREP
Edited: Nov 27, 2013 3:48 PM by Benjamin Duer