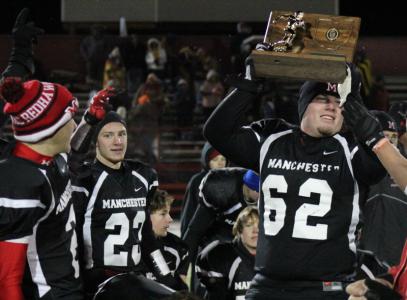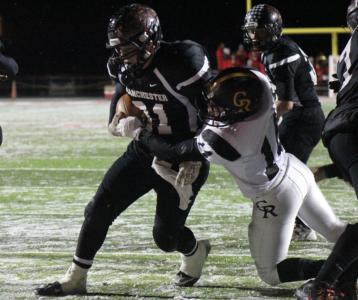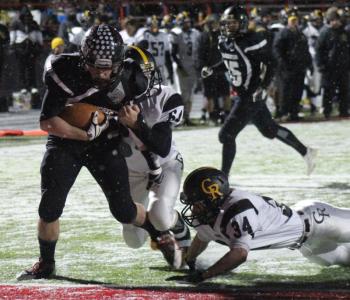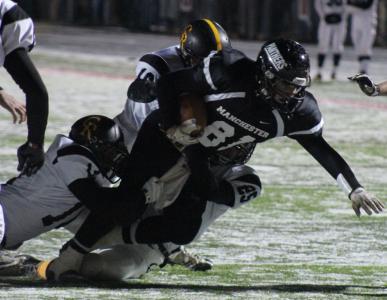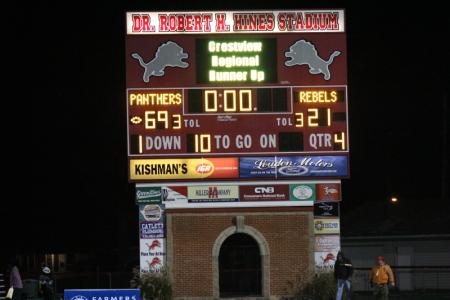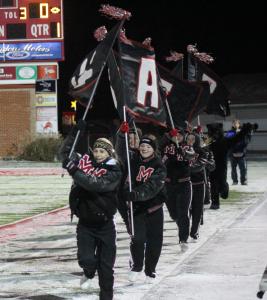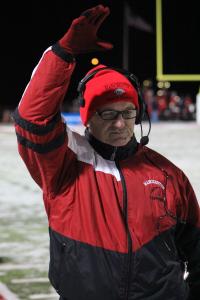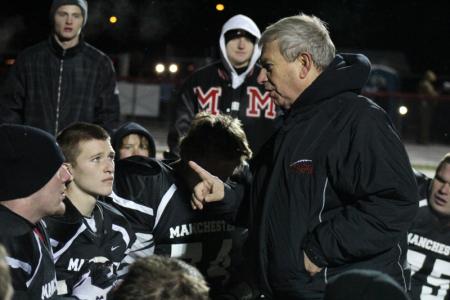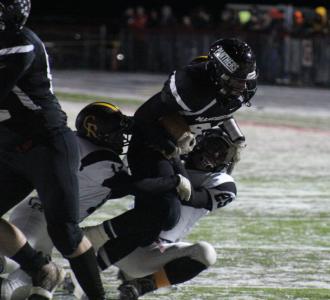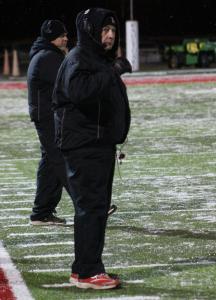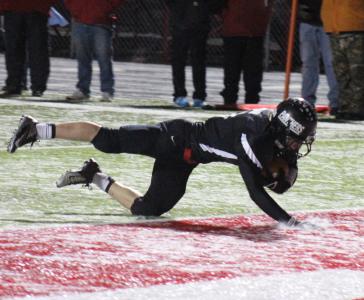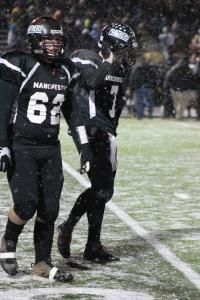 Manchester runs wild in regional final win
Nov 24, 2013 12:07 AM
By ANDY HARRIS
Suburbanite Assistant Editor

MINERVA The weather was frigid and by halftime, the Crestview Rebels were out cold.

In a stunning display of dominance, the Manchester Panthers pulverized the Rebels with 42 first-half points en route to a 69-21 win in a Division V regional final at Robert J. Hines Stadium.
With the temperature dipping to 21 degrees and snow flurries flying, there was simply no stopping Manchester once its physical approach took control.

Identifying the source of Manchester's dominance wasn't difficult. They ran the ball on every one of their 62 plays, amassing 606 yards and 10 touchdowns. That total ranks 11th in state history for team rushing yards and if not for a kneel down on the game's final snap, would have tied for ninth best.
VIDEO: Crestview-Manchester Highlights


Head coach Jim France, in his 42nd year, could not recall a more dominant offensive effort from any of his teams over the years.

"No, I can't," France said when asked if he could remember a better night. "My memory's not as good as it used to be, but 600 yards, I don't think we've ever had that, especially on the ground. That's our kind of football."

Mason Hayes was the hammer smashing away at the Crestview defense from the outset and the 225-pound senior barreled his way to 267 yards on 23 carries and five touchdowns.
He nearly reached 200 yards before halftime, but had to share the wealth with junior Anthony Miltner (14 carries for 192 yards, 2 TD), who ripped off several long runs of his own and tallied the only two first-half touchdowns Hayes didn't score.

Hayes and his teammates believed that if they continued to hammer away at the Rebels, eventually their "hog formation" attack would break their opponents' spirits.

"It was fun, but I couldn't have done it without the offensive line blocking," Hayes said. "Eventually, that was what we planned on doing (wearing Crestview down), but they hit hard too. Even at practice, we don't mess around. We have a job to do and we do it."

The game pitted the top two teams in Division V, Region 15, but the contest could not have been more of a mismatch. In addition to Manchester's dominance on the ground, the Panthers 11-2) suffocated the Rebels defensively.

Crestview managed a scant 67 yards of offense in the first two quarters and turned the ball over twice. Quarterback Collin Gilbert's floating pass was picked off by Manchester's Aaron Hoxworth on the first drive of the game, setting up Hayes' first TD run.

On the next Crestview drive, Gilbert fumbled and Dakota Craig pounced on the ball. Nine plays later, Miltner dove into the end zone for a 14-0 lead and the rout was on.

On the night, the Rebels (11-2) committed three turnovers and the Panthers converted them into 21 points. France praised his defense for its stout play on a night better suited for polar bears and penguins.

"We tried to be aggressive right away. We got after them from the beginning with the interception and the fumble," France said. "I think we kind of stunned them there a little bit with 21 quick points.

The win propels Manchester into its first regional final since 1997 against Columbus Bishop Hartley, which defeated Wheelersburg in the Region 17 championship game at Nelsonville-York High School. The site will be announced by the Ohio High School Athletic Association on Sunday.

The Panthers enter the game playing their best football of the season, a development France attributes to the team's mindset following difficult losses to Fairless and Triway during the regular season.

"I think it's just attitude. Our kids love to play and they like to win," France said. "They don't like to lose and we lost a couple earlier and they're just motivated to go as far as they can. They've probably already gone three games farther than anyone expected us to."
Reach Andy at 330-580-8396 or andy.harris@thesuburbanite.com
On Twitter: @aharrisBURB
Edited: Nov 24, 2013 12:29 AM by Andy Harris