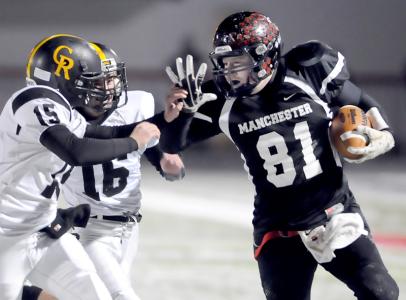 Manchester way too tough for Mother Nature and Crestview
Nov 23, 2013 10:18 PM
By CLIFF HICKMAN
Repository Sports Writer
MINERVA The elements were tough. Mason Hayes and the Manchester Panthers were tougher.
Manchester used a bruising running game led by Hayes and a suffocating defense to rout Columbiana Crestview 69-21 amid cold and snowy conditions in a Division V regional final at Hines Stadium.
Manchester did not attempt a pass and rushed for 628 yards on 53 carries. The 69 points are the most the Panthers have scored in a playoff game. Their previous high was 52 in a win over Campbell Memorial in 2010.
Hayes was a huge part of Manchester's success. The 6-foot-2, 220-pound running back ran for five touchdowns as the Panthers built a 42-0 lead in the third quarter. Hayes piled up 270 yards on just 23 carries.
VIDEO: Crestview-Manchester Highlights
"Mason is a player that wasn't playing a whole lot at the start of the year," Manchester head coach Jim France said. "He stepped in because of some injuries and has played really well. He is a hard-nosed runner. He's rough, he's tough and he can pound the ball."
Hayes had touchdown runs of 48 and 70 yards. The breakaway runs were a new part of his game.
"He isn't usually the type of runner that has those big downfield runs, but he was able to do that tonight," France said. "He usually loves to run it off tackle. It was a great performance."
Hayes credited his teammates for his effectiveness, starting with the offensive line.
"They did a darn good job blocking at the line and they also got some big downfield blocks that helped spring me on those long runs," Hayes said. "I wouldn't have been able to do it without them."
Manchester also got a big performance out of Anthony Miltner. The speedy Miltner was a wide receiver before switching to running back just a few weeks ago. Miltner slashed his way to 193 yards and two touchdowns.
"Anthony gives us a new dimension," France said. "He's not as big, but he is elusive and he has given us a big boost. He can pound the ball but he is also hard to tackle. He was able to get loose a few times tonight."
The offense was supported by a suffocating defense. The Panthers forced an interception and recovered two fumbles. Manchester forced six three-and-outs and did not allow Crestview to get a first down in the second quarter as the Panthers built their massive lead.
"Forcing those six three-and-outs was a big key for us," France said. "We never let them get into any kind of rhythm. I think we kind of sent them a message and frustrated them a little bit. Everybody on the defense did a great job."
Although Crestview quarterback Collin Gilbert was able to get two rushing touchdowns late he was held in check.
"He is their leading rusher," France said. "We did a great job containing him and the defense did a good job tackling him. We didn't let him get going for the most part. He got loose a couple times. He's a great athlete."
Manchester advances to play Columbus Bishop Hartley at a site to be determined in a state semifinal game.
"This group has a great attitude," France said. "They love to win and they hate to lose. We lost a couple games in the regular season, and I think we've won three more games than most people thought we would.
"Next week is going to be a tough one. As hard is this may be to believe, we may need to play better next week to win."
To reach Cliff call 330-580-8494 or send an email to cliff.hickman@cantonrep.com
Edited: Nov 24, 2013 12:26 AM by Benjamin Duer