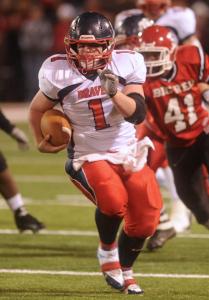 Great opportunity just out of Braves' reach
Nov 23, 2013 12:20 AM
BY ALEX KNISELY
Times-Reporter sports writer

DOVER A big opportunity.

That's what the Indian Valley Braves had in the final minutes of a 17-14 loss in the Division IV regional championship Friday night at Crater Stadium against the Steubenville Big Red.

But Indian Valley couldn't find the end zone.

Inside the final minutes of the game, Big Red lost 25 yards on two penalties that pushed the ball back to Steubenville's own 42-yard line.

The Big Red drive ended on fourth-and-23 on the Braves' 47-yard line.
VIDEO: Indian Valley-Steubenville Highlights


Forced to punt, Steubenville gave Indian Valley the chance it needed to at least get in range to kick a field goal to tie the game

However, luck was not Indian Valley's side when the Big Red forced the Braves to turnover the ball on their last play of the game to give possession back to Steubenville with just more than a minute left.

"I'll take some of the blame in the second half," said Indian Valley head coach Matt Lancaster. "I don't if know I had the kids in the best positions to be successful and that's my job as head coach. But they fought hard. We just didn't get it done in the end."

Steubenville then kneeled their way to become Division IV champions.

Indian Valley senior wide receiver Logan Ryan credited Steubenville for their performance in the game and acknowledged a missed opportunity.

"They (Steubenville) came out and pounded the ball, and didn't really go in the air much," Ryan said. "They have athletes, and their athletes stepped up in the second half.

"Our defense held them out. Only giving up 17 points, we should've had this game," Ryan added. "We could have won and we had our chances, but we just didn't capitalize."

But this loss for Indian Valley can be considered a victory in some people's eyes, maybe even the supportive and roaring crowd sitting, and standing, behind the Braves during the entire game.

This is the third consecutive (and overall) time the Braves have appeared in the playoffs, and the regional final is the farthest Indian Valley has traveled in the postseason.

Lancaster, who has been coaching the Indian Valley for only a few years, said ending up in the regional final was a stellar achievement for his Braves.

"I'm so proud of the effort and so proud of the fight they showed all the way up to the very end," Lancaster said. "Coming this far, great accomplishment by our young men. I couldn't be prouder of this football team."

An opportunity was lost, but an achievement was scored with Indian Valley's performance in the postseason.

Reach Alex at 330-364-8425 or alex.knisely@timesreporter.com
On Twitter: @TRAlexSports˙
Edited: Nov 23, 2013 1:09 AM by Benjamin Duer