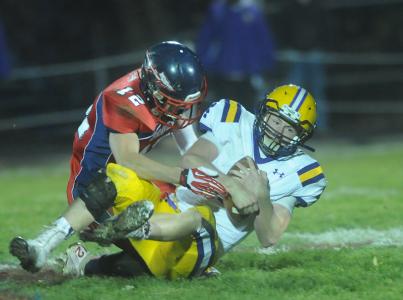 Big Red pose another stiff test for Indian Valley defense
Nov 20, 2013 11:23 PM
BY ROGER METZGER
Times-Reporter sports writer

MIDVALE Indian Valley's defense has faced some fast teams this season, and the Braves will get another dose of speed in Steubenville.

The 10-2 Braves will take on the 8-4 Big Red in the Division IV regional football championship at what is sure to be a packed Crater Stadium in Dover on Friday night.

The winner will be in the final four and meet either Cleveland Benedictine (9-3) or Youngstown Cardinal Mooney (8-4).
VIDEO: Braves' Caden McGuire and Aaron Haney


Indian Valley has played lights-out defense for the most part this season and will need another lights-out performance to advance.

"They're awfully fast," Indian Valley defensive coordinator Aaron Haney said. "Their line is not that big, but they're fast. Still, I think we can match up with them."

Big Red feature a young team with the likes of sophomore quarterback Mandella Lawrence-Burke, sophomore running back Johnnie Blue and junior wide receiver Lucas Herrington.

Blue had 14 carries for 95 yards and a touchdown and Lawrence-Burke added 31 yards on 11 attempts in Steubenville's regional semifinal win over Maysville.

"Both teams like to run the ball," Haney said. "They're a lot like us."

But it was two big pass plays that vaulted Steubenville to a 22-20 win.
VIDEO: Two-Minute Drill - Indian Valley v. Steubenville


Lawrence-Burke hit Herrington for a 57-yard touchdown and added a 34-yard scoring strike to the speedy wideout to pad Steubenville's lead at 22-14.

Lawrence-Burke was 13-of-18 passing for 204 yards, the two TDs and one interception. Herrington caught seven balls for 133 yards.

The Braves are coming off a defensive-minded 7-3 victory over Philo in the regional semifinals at Meadowbrook Friday night.

"Our defense really stepped up," Haney said of his unit's effort. "Every week we preach to our kids to do their job, and each of them did last week."

Junior linebacker Kyle Contini (5-9, 200 pounds) leads the way in stops with 115, which includes 32 solos and 83 assists. He is averaging 10.5 tackles per contest.

Junior lineman Brock Weber (6-1, 245) has added 84 tackles with a team-leading six for loss, sophomore defensive back Brady Cotsmire (5-11, 160) has chipped in 83 tackles, senior linebacker

Logan Ryan (6-0, 190) has made 80 stops and junior defensive back Caden McGuire (6-0, 160) has contributed 67.

Weber is tops with six sacks and junior lineman Brandon Anderson (5-10, 235) is next with three, while senior defensive back Brady Byers (6-3, 195) has picked off five passes and Cotsmire has added three more aerial thefts.

Indian Valley has given up a total of 227 points for an average of 18.9 a game.

The Braves are third, only behind Kettering Alter (21) and Kenton (20), for fewest points allowed (24) this postseason for Division IV participants.

"We've had our ups and downs, but we played solid defense for the most part and we played really well heading into this game," Haney said.

Indian Valley is sure to draw a big turnout with the contest being played on the FieldTurf at Crater Stadium.

Even with the Big Red as the home team, the Braves feel they might have the home-field advantage.

"That's huge for us," said Haney. "A lot of Tuscarawas County is going to be there. It's going to be a great atmosphere."

Reach Roger at 330-364-8427 or roger.metzger@timesreporter.com
On Twitter: @TRSportsguy
Edited: Nov 21, 2013 8:19 PM by Benjamin Duer