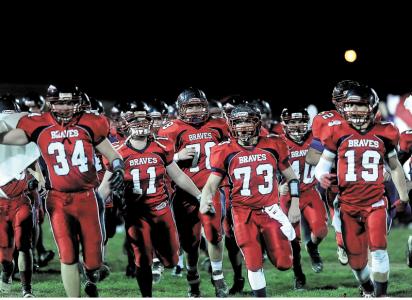 Braves running at history
Nov 19, 2013 11:29 PM
BY JIM HAYNES
Times-Reporter sports writer

MIDVALE Everyone knows the Biblical account of David versus Goliath, when David took a slingshot and five smooth stones from a brook and defeated the champion of the Philistine army with one perfect shot to the forehead.
Well, the Indian Valley Braves find themselves playing the role of David on Friday night as they take on the Steubenville Big Red in a Division IV regional football final at Dover's Crater Stadium.

While Indian Valley comes into the game as the No. 2 seed and Steubenville No. 8 in Region 13, the storied history of the Big Red program is like Goliath, decorated and intimidating.

Indian Valley is making only its third playoff appearance in school history, while the Big Red are making their 26th appearance.
VIDEO: Player of the Week is Brady Byers


The Braves have a record of 2-2 in the postseason, while Steubenville has an overall playoff record of 49-22, with three state titles under its belt.

Their 49 wins place them tied eighth with Columbus St. Francis DeSales for all-time wins in Ohio high school football playoff history.

But history is just that — history.

Much like David, who could have run scared from his opposition, the Braves are running full force toward their opposition, full of confidence and unintimidated.

And that's running, literally.

Over the last four games, the Braves have rushed for 1,168 yards.

That's a whopping 292 yards per game just on the ground. The Braves defense only has allowed an average of 232 yards of total offense over that same span.

On defense, Indian Valley has given up 227 points for an average of 18 a game, while Steubenville has given up 292 points for an average of 24 a game.

One other defensive note is that the Indian Valley defense is third, behind Kettering Alter (21) and Kenton (20), for fewest points allowed (24) this postseason for Division IV participants.

Offensively, the two teams are nearly identical, not only in their style of offense, but statistically as well.

Indian Valley has scored 355 points on the season for an average of 29 points a game, while Big Red has scored 340 points for an average of 28 a game.

It's somewhat hard to compare the two teams' schedules, in large part because Steubenville has played six teams that were from outside the state of Ohio (West Virginia [two], Delaware, Michigan, Canada, Pennsylvania). Against those six teams, the Big Red were 4-2. They have three wins against teams with a .500 or better record on the season.

Conversely, the Braves have won seven games this season against opponents with a .500 or better record. They play in the PAC-7, which had four teams advance to the second round of the playoffs this season.

One other note of interest, despite being the No. 2 seed, the Braves will be the visiting team Friday night at Crater Stadium because Steubenville upset No. 1 seed Licking Valley in the first round.

History aside, this one has the makings of a real battle, and Indian Valley will have its slingshot ready.

Reach Jim at 330-364-8425 or jim.haynes@timesreporter.com
On Twitter: @JamesEricHaynes
Edited: Nov 20, 2013 4:42 PM by Benjamin Duer