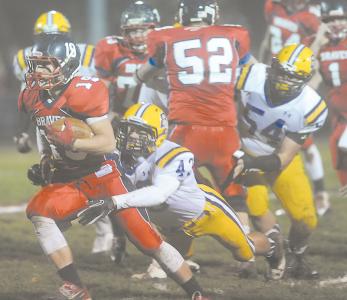 Indian Valley 'lunch-pail' line paves way to playoffs
Nov 12, 2013 11:52 PM
BY ROGER METZGER
Times-Reporter sports writer

MIDVALE On a football field that had several inches of snow on it, the Indian Valley High School squad went through its paces Tuesday in preparing for another playoff tilt Friday night.

The amount of snow that fell Monday night into Tuesday morning was a bit of a surprise.

What hasn't been a surprise has been the way the Braves' offensive line has performed this season.

The unit is a major reason why Indian Valley is 9-2 and playing Philo (9-2) in the Division IV regional semifinals at Meadowbrook High School.
VIDEO: Coach's Corner with Matt Lancaster


"They're a great, great unit," praised Indian Valley head coach Matt Lancaster. "They play so well together. They just get the job done."

"They're a hardworking group," added the Braves' mentor. "They bring their lunch pails to work every day and work their butts off for us."

Juniors Brock Weber (6-foot-1, 240- pound tackle) and Brandon Anderson (5-11, 235, guard), seniors Jared Kerns (6-3, 240, tackle) and Joey Kopp (5-9, 190, center) and sophomore Koby Cool (5-11, 235, guard) are big reasons why power running back Jake Davis, shifty quarterback Brady Byers and do-it-all performer Logan Ryan have been so successful.

Junior tight end Kyle Contini (5-10, 200) and senior fullback Trevor Garabandt have added to the success of the Braves' offense.

"People only notice the offensive line when they screw up," joked Lancaster. "But these guys (the offensive playmakers) know it all starts up front. They're a big reason why we're 9-2 and playing again Friday night."

The line has helped produce more than 3,000 yards rushing led by the likes of Davis, Ryan and Byers.
VIDEO: T.D. County has Brady Byers and Logan Ryan
Davis has churned out nearly 1,800 yards on the ground, while Byers is pushing 1,000 and Ryan has nearly 750. The line has also protected Byers and allowed him time to throw for more than 700 yards on the season.

Lancaster also credits line coach and co-offensive coorindator Chad Peterman for helping the Braves' line become a cohesive unit.

"He does a heck of job with them," said Lancaster. "He knows his stuff."

And the group has been a pretty durable bunch.

Weber, Anderson, Kerns, Kopp and Cool have started all 11 games for the Braves, while Kerns just missed a pair before getting back into the swing of things.

The line as constituted got its start in the heat of playoff action last season.

"When Logan Ridgway went down in the playoff game against Johnstown-Monroe, Koby Cool stepped in as a freshman," recalled Lancaster. "The line that ended that game all came back this season."

And the Braves are glad for that.

Reach Roger at 330-364-8427 or roger.metzger@timesreporter.com
On Twitter: @TRSportsguy
Edited: Nov 14, 2013 9:06 PM by Benjamin Duer