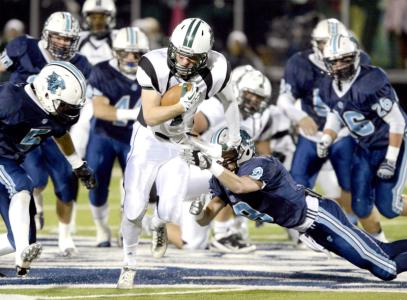 Aurora scores late touchdown to down Louisville
Nov 09, 2013 12:05 AM
BY MIKE POPOVICH
Repository sports writer

LOUISVILLE Aurora quarterback George Bollas had one comeback left in him.

It ended an outstanding season for the Louisville Leopards.

Bollas' 22-yard touchdown run with 1:07 left lifted the Greenmen to a 24-21 win over the Leopards on Friday in a Division III, Region 7 quarterfinal. The Kent State recruit drove Aurora 68 yards in less than two minutes and into a second round matchup with Hubbard.

Louisville lost for the first time this season.

The Leopards had all the momentum late in the third quarter when they scored two quick touchdowns to take a 21-17 lead.

Connor Zwick's 8-yard touchdown pass to Andy Minster completed a must-score drive for the Leopards after they fell behind 17-7.
VIDEO: Aurora-Louisville Highlights


Linebacker Frank Falcone's great read of a Bollas screen pass led to an interception. Walter Schrock's 20-yard touchdown run on the first play of the drive pushed Louisville ahead.

The Leopards were able to put some pressure on Bollas after they took the lead. Bryce Mathie's interception early in the fourth quarter resulted from it.

But after running for two touchdowns earlier, Bollas would be heard from again. His 20-yard run on the second play of the winning drive put the Greenmen into Leopards territory. He scored the go-ahead touchdown four plays later.

"Running the ball for me was working all game," Bollas said. "We had trust in our offensive line, trust in me and we drove down the field and scored."

Bollas ran for a game-high 211 yards on 26 carries. He also had touchdown runs of 47 and 57 yards.

"You want the ball in your best guy's hands at the end," Aurora head coach Bob Mihalik said. "That truly was the case."

Aurora took the opening kickoff and drove 83 yards to grab the lead.

Cole McElroy's sack of Bollas forced and third-and-long for the Greenmen. Bollas, however, showcased his quickness and talent on the next play when he cut to his left and raced 47 yards for a touchdown to give Aurora a 7-0 lead.

The Leopards quickly responded.

A 21-yard pass from Zwick to Alex Hollifield set up Louisville at the Aurora 19. Two plays later, Zwick ran it in from a yard out to tie the game at 7-7.

The game had all the makings of a shootout. It was far from it the rest of the first half.

The Greenmen drove into Louisville territory three more times in the first half but failed to score. They blew an excellent chance midway through the second quarter.

Aurora had a first-and-goal from the Louisville 3. Two plays later, Bollas tried to take it in from the 1 on a keeper, but he fumbled the ball before he crossed the goal line. The ball rolled out of bounds for a touchback.

Bollas regrouped in the second half and ended an incredible season for the Leopards. It began when a season-ending knee injury to quarterback Joey Duckworth pushed Zwick into the starter's role.

"He played well, played hard and improved greatly from the beginning of the year," Louisville head coach John DeMarco said. "We felt our whole team did. Every one of our individuals improved through the whole year."

Reach Mike at 330-580-8341
or mike.popovich@cantonrep.com
On Twitter: @mpopovichREP
Edited: Nov 09, 2013 4:00 AM by Benjamin Duer