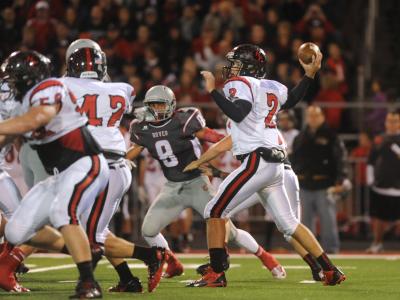 Quakers keep eyes on prize: First playoff victory
Nov 06, 2013 12:48 AM
By DARRIN LAUTENSCHLEGER
Times-Reporter sports correspondent
NEW PHILADELPHIA There's simply no time or interest this week for the New Philadelphia football team to be satisfied.
It is true even after defeating Dover 34-28 in triple overtime Friday night and even after the win ended an eight-game losing streak to the rival Tornadoes.
The reason why the celebration is over is because another big week and another big goal is right in front of the Quakers — winning the school's first playoff game.
It travels to Dresden to take on Tri-Valley at 7:30 Friday night in a Division III, Region 9 quarterfinal.
VIDEO: Preview of New Philadelphia-Tri-Valley
"It's a huge thing going from the triple-overtime game and beating Dover and to have the opportunity now to set out for what we want to do, and that's to win a playoff game," said senior Hunter Stein, the Quaker's offensive right guard. "Dover was a great win, but we're looking ahead to bigger and better things starting this week."
The Quakers (9-1), the region's No. 5 team, will see a seasoned playoff team in Tri-Valley, which is 8-2 this season and the No. 4 team in Region 9. The Scotties have been a frequent postseason participant for several years and have played Dover in a few regular-season games.
Tri-Valley and New Philadelphia share one opponent this season — undefeated Zanesville.
The Quakers suffered their only loss this season 28-14 to the Blue Devils on Oct. 11.
The Scotties were thumped 52-7 by Zanesville on Sept. 20. Tri-Valley's other loss came at the hands of playoff-qualifier Licking Valley, 17-14, in the season opener.
But that margin certainly doesn't leave New Philadelphia head coach Matt Dennison feeling any relief.
"They are very big up front, and they look to control the line of scrimmage. One of their linemen (Colin Prouty) has signed with Kent State," Dennison said. "They line up in the spread, but they are definitely a run-first team behind that big line."
Four of the Scotties' offensive linemen weigh 232 or better, and Prouty is an impressive 6-foot-5, 280-pound left tackle. Tri-Valley has popped a lot of big plays from behind that line, Dennison said.
The Tri-Valley attack is engineered by junior quarterback Brock Fargus, a 6-foot-2, 180-pounder who leads the team with his arm and his legs.
Fargus is the team's top rusher at 753 yards and eight touchdowns. He has completed 88 of 138 passes for 1,328 yards, 17 TDs and six interceptions.
The Scotties have spread the rushing attack around. Junior tailbacks Daniel Scott (666 yards and 10 touchdowns) and Logan Bash (571 yards and nine touchdowns) are key contributors. Junior wideout Hunter Mohler (6-3, 190) has caught 41 passes for 740 yards and nine TDs.
"It starts with (Fargus) for them," Dennison said. "He's gotten better and better as the year has gone along. He's making good decisions and breaking big runs every week."
New Philadelphia, making its sixth trip to the playoffs under Dennison and seventh overall, was balanced in its win over Dover, running for 199 yards and passing for 219.
The Quaker's Jamal Johnson had 188 yards on 44 carries, and is nearing 2,000 yards rushing for the season (1,963). He is No. 6 on the state's all-time career rushing list with 7,018 yards.
Quarterback Caleb Beans, the school's all-time leading passer, has completed 102 of 181 passes this season for 1,639 yards, 20 touchdowns and seven interceptions.
The Quakers will need to remain focused in preparation and execution if they hope to reach Week 12, Stein stressed.
"Every week, we have a push to get better and do what we can to improve as a team," said Stein. "I'm looking forward to having the opportunity to get to keep playing and to keep moving toward our main goal."
X
Edited: Nov 07, 2013 1:29 PM by Benjamin Duer