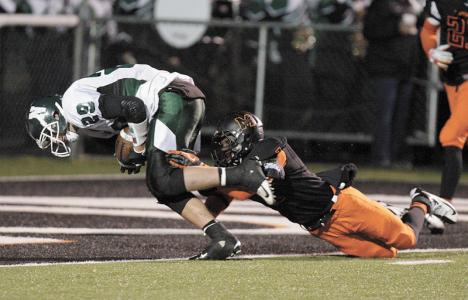 Massillon-Nordonia rematch has advantages for both teams
Nov 05, 2013 11:48 PM
By CHRIS EASTERLING
Independent sports editor

MASSILLON The division is different. The night of the week is different.

But the setting, and the opponent, hasn't changed from last year to this as Massillon prepares to open up the playoffs.

On Friday night, the Tigers will play their first Division II playoff game at Paul Brown Tiger Stadium. But they will face the same Nordonia team they opened their final Division I playoff run against a year ago.

A year ago, Massillon welcomed the Knights to Paul Brown Tiger Stadium on a frigid Saturday night. And it only got colder for the visitors as the game went on, as the Tigers steam-rolled Nordonia 63-34 on their way to a regional runner-up finish.

That tape is being brought out by both coaching staffs this week in advance of Friday's rematch between two 8-2 teams. While many of the faces may have changed, both sides believe there are advantages to watching what occurred last November.
VIDEO: Preview of Nordonia-Massillon


"We'll definitely watch it," Massillon coach Jason Hall said. "Obviously, we have tons of games on them. We'll see how they defended us last year, just to get an idea. We'll just look at all the different stuff they did to show our kids in preparation."

Last year's game devolved into a Tiger rout early. Massillon led 21-7 after one quarter, and was up 42-7 late in the first half.

By halftime, quarterback Kyle Kempt was already at 243 passing yards, while Ryne Moore had topped the 100-yard rushing plateau. And Marcus Whitfield, one of the Tiger players back this season, already had 113 yards receiving.

Nordonia coach Jeff Fox watched helplessly from the sidelines as his team's upset hopes we sabotaged by a pair of first-quarter turnovers. Those giveaways, and not the playoff atmosphere that night, are what the second-year coach believes were the biggest hurdle the Knights had to clear.

"We had (two) turnovers in the first quarter, and all of the sudden, we're playing from behind against a great football team," said Fox, whose team scored its lone first-quarter touchdown on an interception return. "What actually happened on the field was as big an issue. Who knows what's going on in each kid's head as we go. You can't turn the ball over against a good team. That goes in any football game."

Unfamiliar surroundings shouldn't be an issue for Nordonia this season. While there were graduation losses on both sides, the Knights bring back a significant number of players who saw time a year ago.

Nordonia's top two receivers this year — Alex Alders and Denzel Ward — each had five catches in that game, with Alders also catching a touchdown pass late in the first half. Two of the Knights' top defenders return in linebackers Alex Woicehovich and Sterling Brabson.

"It can't hurt," said Fox, whose team once again comes to Massillon having lost its last two games. "The quicker our team realizes that we're just playing football and the field is a 100 yards long, and realize they're high school kids, too, then we'll be in great position. We're playing against a team equal, in theory, to us. I think our team's much better prepared to do that this year."

One area where Nordonia is hurting, literally, is at the running back position. Leading rusher Jordan Nobles, who had 107 yards against the Tigers last season, suffered an injury in Week 7 and was ruled out this week by Fox.

In his place steps Brabson, who was battling his own injury issues earlier in the season that limited him to just defense until Nobles went down. Brabson has rushed for 200 yards in the last three games.

"He's a good athlete, too," Hall said. "He used to play mostly defense. Now they're trying to balance that. They've got athletes. All these guys can run well."

The biggest difference between both teams from last year to this is the person at the controls of the offense. Kempt has departed Massillon for Oregon State, while Tyler Alders has also left Nordonia via graduation.

Freshman Danny Clark has stepped into the void for the Tigers, throwing for 1,390 yards and 15 touchdowns. Junior David Murray, meanwhile, has thrown for 2,251 yards and 30 touchdowns for the Knights.

And that presence at quarterback may be the biggest challenge for Massillon's defense.

"This is really the first real, true pocket quarterback that'll stand in there and read coverages and throw," Hall said. "It's kind of like what we do. It's just a different challenge that we haven't seen a lot of since probably Avon and a little bit against Willoughby South (in preseason scrimmages). At the same time, they get to see this against us; this is what they see all summer, with the tempo stuff in practice."

Of course, for both teams, what they'll see across from them Friday night should be familiar. They just saw it a year ago.

Reach Chris at 330-775-1128
or chris.easterling@indeonline.com.
On Twitter: @ceasterlingINDE
Edited: Nov 06, 2013 9:19 AM by Benjamin Duer