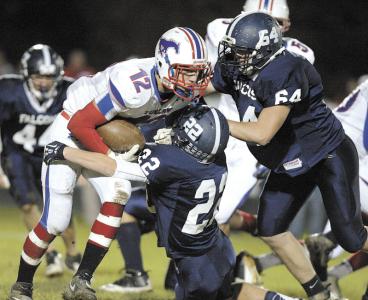 Fairless focused on slowing Black River's vaunted run game
Nov 05, 2013 11:45 PM
By CHRIS EASTERLING
Independent sports editor

SUGARCREEK TWP. There are plenty of challenges awaiting Fairless as it opens the Division V playoffs Saturday night at Black River. None, though, quite match the issues the Falcons are going to have to deal with on defense.

The Pirates aren't necessarily the flashiest of offensive teams. While Fairless will spread things out and throw the ball all over the place, Black River is perfectly content to sit in its wing-T and steadily grind the yards — and the clock — while running its opponent into the turf.

Which is exactly what makes the 7-3 Pirates such a tough team to defend.
VIDEO: Preview of Fairless-Black River


"One of the biggest challenges with that is that they just have those long drives that go down the field," senior defensive lineman Zach Wyant said. "Only three or four yards at a time, but they still just make it down the field and it just tires you out. The good thing about that is we pretty much two-platoon this year; we have our offense and our defense. We don't have a lot of people who have to go back and forth."

It's not just that Black River is both effective and efficient in running its offense, it's that the Pirates possess one of the top running backs in the state in senior Andrew Vaughn. Vaughn, Medina County's all-time leading rusher with almost 5,950 yards for his career, is going out in style.

The 5-foot-10, 200-pound senior has gained 2,203 yards on 230 carries, while scoring 26 rushing touchdowns this year. He's rushed for at least 131 yards in nine of 10 games — the only one he didn't was last week's 87-yard effort in a loss to Keystone — while topping the 200-yard mark seven times, and the 300-yard plateau twice.

What the Falcons are hoping is that their schedule, particularly in the Principals Athletic Conference, has them ready for the challenge a back like Vaughn will present. Both playoff-bound Manchester and Indian Valley boast strong running games, as does Cuyahoga Valley Christian Academy, which beat Fairless in Week 8.

"The great thing about our conference is that it has prepared us for some good football players," Fairless coach Don Wilson said. "There's some great running backs in our league, so we've at least had that experience. Vaughn has an extra gear, which a lot of good football players do that play running back. He's a big kid that can get physical and run you over, too, so he's got that two-way punch. That's a dangerous thing."

It's not just Vaughn who can hurt opposing defenses. Fellow wingback David Bell has rushed for 904 yards this year — four 100-yard performances along with a 97-yarder — despite missing a Week 3 loss to Manchester with a concussion.

Fullback Colin Filak is averaging almost five yards a tote as the Pirates' No. 3 rusher. That has helped Black River average almost 405 rushing yards a game.

All of that will be going against a Fairless defense that has allowed 185.3 rushing yards a game. That total is somewhat-skewed by the season-high 376 given up to Manchester in a Week 4 triple-overtime win, and 318 yards allowed in a Week 9 loss at Indian Valley.

In fact, after giving up 215.5 yards a game on the ground in the first four games, the Falcons are only allowing 165.2 rushing in the final six games. They surrendered at least 207 in three of their first four games, but only once had an opponent gain more than 178 yards.

"It started off a little sketchy," said junior linebacker Austin Weyandt, who has 41 solo tackles in the last four games. "The last couple of weeks, we've been doing good as a unit. We are working hard as linemen, linebackers and secondary, coming and filling, working well together."

A trend that Fairless needs to continue Saturday if it wants its playoff run to go into a second week.

Reach Chris at 330-775-1128
or chris.easterling@indeonline.com.
On Twitter: @ceasterlingINDE
Edited: Nov 06, 2013 9:21 AM by Benjamin Duer