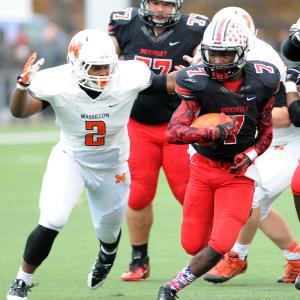 McKinley looking straight ahead at St. Ignatius
Nov 05, 2013 11:43 PM
BY JOSH WEIR
Repository sports writer

CANTON It is full steam ahead for the McKinley Bulldogs, says head coach Todd Filtz.

That's good, because looking back is a no-no. The St. Ignatius Wildcats are a high school football team that requires all of McKinley's attention ... and a much better performance than last week.

McKinley hosts the traditional Cleveland power on Saturday at Fawcett Stadium in a Division I, Region 1 quarterfinal. The 7 p.m. game comes a week after McKinley's humbling 34-7 loss to Massillon at Fawcett.

"Our guys are keyed in on the playoffs now," Filtz said. "Just what I expected from them; they're ready to move forward. As hard as it is to move on (from Saturday), we still have playoff life."

McKinley won its first nine games this season, took the Federal League title outright and had a home playoff game clinched entering the Massillon game. But thanks to a sloppy performance Saturday in front of almost 20,000 fans, the Bulldogs slipped to No. 6 in the 16-team region and a matchup with the 11-time state-champion Wildcats.
VIDEO: Preview of St. Ignatius-McKinley


McKinley appeared frustrated in Saturday's second half and lost composure a few times. Filtz turned to team captains Jamal Davis II, Jacque McClellan, Jarrod Smith and Jeff Harding to help refocus the Bulldogs this week.

"That's the main reason you name them captains," Filtz said. "Those were the first guys I went to after that football game. That should trickle down through the seniors to the juniors and everyone else."

The Bulldogs were outplayed in all phases Saturday. Maybe most glaring was a McKinley offense that did its defense no favors by routinely handing the ball right back to Massillon.

McKinley ran three offensive plays in the first quarter.

"You can't win football games like that," Filtz said. "We need to sustain drives and move the chains, then ultimately finish those drives."

That didn't happen either. Smith and Eric Glover-Williams began to find running room early in the second quarter as the Bulldogs embarked on their best overall drive of the day. But Smith fumbled the ball inside Massillon's 10 and the Tigers recovered.

Later in the quarter, Smith broke loose for 15 yards and Glover-Williams passed to Chris Prowell-White for 19 yards.

But a miscommunication led to an incompletion on a wide open pop pass and the Bulldogs settled for a 37-yard field goal attempt. It was blocked and returned for a back-breaking 45-yard touchdown by Massillon as the first-half clock expired.

Glover-Williams was 2-of-11 passing with one interception overall.

The Bulldogs are never going to be a pass-first team with Glover-Williams, the Ohio State recruit who is an exceptional athlete but whose natural position is running back or receiver. But the Bulldogs must somehow find better production through the air.

They complete only 44.8 percent of their passes and have thrown for only six TDs all season.

"We can't get give up on (the pass)," Filtz said. "We've got to continue to get reps. Come this weekend, we have to be able to do it so we can keep (Ignatius) honest."

Smith and Glover-Williams have combined for 1,761 yards rushing at 6.0 yards a carry.

Nikolas Ricks provided a bright spot with an 80-yard TD run Saturday. A starter at linebacker on defense, the 6-foot-2, 205-pound Ricks has scored three TDs on his five offensive touches this season.

"His role on offense has evolved a little bit," Filtz said. "He's one of those guys, as we saw last week, that can take the ball the distance. In a game like this, we need those kinds of guys with the ball in their hands."

Reach Josh at 330-580-8426
or josh.weir@cantonrep.com
On Twitter: @jweirREP
Edited: Nov 06, 2013 9:20 AM by Benjamin Duer