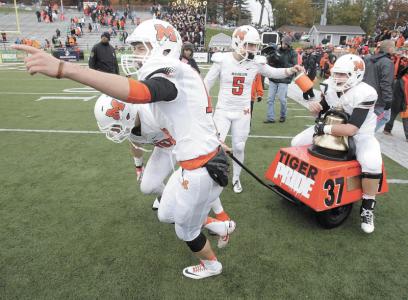 Massillon won't be deterred by short turnaround
Nov 05, 2013 12:31 AM
By CHRIS EASTERLING
Independent sports editor

MASSILLON It was a good concern for Jason Hall to have in the immediate aftermath of Massillon's win against McKinley on Saturday afternoon. The sixth-year head coach was worrying about just how much time he and his coaches would be spending that evening breaking down the Tigers' first-round playoff opponent, Nordonia.

Turns out, it didn't take up as much time as he thought. At least, not that evening.

"Not as late as I thought I would," Hall said Monday afternoon. "I was pretty tired. I went to bed around midnight, but I got up around 4 (Sunday morning). ... It's just what we do. Nobody's sleeping right now."

That's because of the quicker-than-normal turnaround Massillon now faces between its regular-season finale and Friday night's Division II playoff opener at Paul Brown Tiger Stadium. In previous years, when the Tigers were in Division I, their playoff games were on Saturday night, giving them an extra day of recovery following the always-physical contest with McKinley.
VIDEO: Preview of Nordonia-Massillon


However, now that Massillon is in Division II, its playoff games are on Friday night. That cuts down on the recovery time a bit, although Hall dismisses the overall impact it'll have for his team.

"We'll manage our kids," said Hall, whose team is 8-2. "We're not going to do much (Monday) besides walking through. We've played on short weeks before. I don't think it's that crazy."

Even though Massillon's playoff status wasn't finalized until it polished off its win over the Bulldogs, the coaches still had an idea of the potential first-round match-up. So even before the Tigers took the field Saturday, they had the start of a scouting report on the Knights, having had scouts at their game Friday against Wadsworth.

"We knew after Week 9," Hall said. "We sent people to Ellet and Nordonia on Friday night while the parade was going on. By 11 o'clock on Friday night, we knew that if we won Saturday, we'd be hosting Nordonia."

Which was an added bonus for Massillon, seeing as it's not necessarily an unfamiliar opponent. The two teams met last year at Paul Brown Tiger Stadium in a Division I opening-round game, a game in which the Tigers rolled to a 63-34 victory.

The Knights, who are also 8-2, return a number of players off that team, including five offensive and four defensive starters from the playoff game against Massillon. Hall said that game will be shown to the players this week, along with Nordonia's games this season.

However, the biggest thing the head coach is looking for is the kind of approach he saw from his team during the week leading up to the McKinley game.

"It's a similar thing," Hall said. "It's do-or-die now. You're in the playoffs. Your concentration level has to be at a very high level every day."

Weeks like this week — or last week, for that matter — are where Hall believes the Tigers' experience plays a critical role. As is the case with Nordonia, Massillon returns a significant number of players who saw plenty of time in last year's playoff run.

That fact, plus the continuity in the Tigers' coaching staff from last year, are things Hall believes comes into play at playoff time.

"This staff's been together awhile," Hall said. "These kids, a lot of them played through last year. We've got a lot of guys back who can share the experience with the young guys playing. We didn't change anything last week; we're going to do what we do every week."


Reach Chris at 330-775-1128
or chris.easterling@indeonline.com.
On Twitter: @ceasterlingINDE
Edited: Nov 05, 2013 11:54 AM by Benjamin Duer