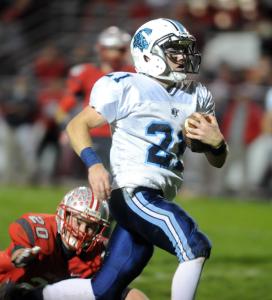 Louisville finishes perfect season, awaits playoffs
Nov 02, 2013 12:49 AM
BY MIKE POPOVICH
Repository sports writer

CANTON TWP. You can add a new chapter to Louisville's storied high school football history.

The 2013 Leopards ... they authored a perfect ending to a perfect regular season Friday night.

Louisville wrapped up its first 10-0 season since 2009 and the 12th in school history with a 42-21 victory over Canton South at Brechbuhler Stadium. The Leopards built a 28-point halftime lead on their way to the outright Northeastern Buckeye Conference title and a first-round home playoff game.

The Leopards scored all their points in the first half as they also became the 61st Stark County team to go 10-0.
VIDEO: Louisville-Canton South highlights


"It's a great accomplishment," Louisville head coach John DeMarco said. "We're looking forward to our second season, but regardless of what happens, you can't take that 10-0 away.

"I think it's a special bond not with just the 10-0 Louisville teams, but all the 10-0 teams around. It's a very special thing and it's something that's very hard to do."

The Leopards persevered after the loss of quarterback Joey Duckworth to a season-ending injury in August. Connor Zwick grew into the position, and the rest of the team formed a strong, cohesive unit.

Receiver Andy Minster always believed a 10-0 season was possible.

"As a team, we thought we could do it," Minster said. "We worked hard every day and got it done.

"It's one of the best feelings in the world, going 10-0."

Minster arguably made the biggest play of the night for the Leopards.

Canton South tied the game at 7-7 in the first quarter on Josh Lyon's

12-yard touchdown pass to DJ Wilson. It took Minster 11 seconds to help Louisville regain the lead. His 88-yard kickoff return for a TD started a 21-0 Leopards run.

"I have to thank all my blockers," Minster said. "They set up the perfect hole for me. I just hit it and was wide open."

Minster's kickoff return was one of a few quick strikes by the Leopards in the first half.

Zwick's 23-yard touchdown run completed a one-play drive. Dakota James' 5-yard TD run ended a three-play drive.

Walter Schrock also ran for two touchdowns and Zwick threw a TD pass to Bryce Mathie.

"Connor stepped up," said Minster, who also had three catches. "The O-line played well like they always do. We ran the ball well and caught passes. It all came together like we wanted it to."

Zwick finished 8-of-11 passing for 145 yards and ran for a team-high 67 yards. He showed no ill effects from the hip injury he suffered last week at Alliance.

With Louisville holding a comfortable lead, DeMarco decided to sit Zwick in the second half as a precaution and play Joe Crank and Jacob Adams at quarterback.

"He had a long week," DeMarco said. "We still weren't sure if he was going to play at midweek. It looks like he showed up and played though."

Lyon threw two touchdown passes and ran for a TD for the Wildcats, who finish at 6-4.

Reach Mike at 330-580-8341 or

mike.popovich@cantonrep.com

On Twitter: @mpopovichREP
Edited: Nov 02, 2013 3:21 AM by Benjamin Duer