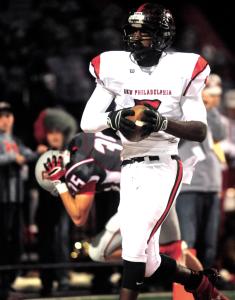 Instant classic: New Phila stops Dover in triple OT
Nov 02, 2013 12:27 AM
By DARRIN LAUTENSCHLEGER
Times-Reporter sports correspondent

DOVER New Philadelphia's Jamal Johnson came in like a wrecking ball in the third overtime at The Brickhouse on Friday night.

The senior intercepted a Dover pass on the first play of the third extra session and then carried the ball on the next three plays, scoring the winning touchdown for the Quakers in a thrilling, exhilarating instant classic.

And when the Quakers finished off the 34-28 win over Dover in the 110th football meeting between the rivals, they not only picked up a win on the new turf at Crater Stadium, they also smashed a gut-wrenching eight-game losing streak to the Tornadoes and clinched a playoff spot.
VIDEO: New Philadelphia-Dover on "Game Night"


"I decided right then that all the blood, sweat and tears that we have put in over the past four years were going to have to come up one more time," Johnson said in the middle of a mob of celebrating Quaker fans. "I watched (Dover) beat us these last three years, and I wanted to feel that feeling they have had just one time. My teammates fought to the very end and never gave up once."

The Quakers (9-1, 4-1 in the East Central Ohio League) may have earned a home game in next Friday night's Division III, Region 9 playoffs.

Dover (7-3, 3-2) most likely will miss the postseason. Final official playoff computer rankings and next week's regional quarterfinal pairings will be announced later this weekend by the Ohio High School Athletic Assn., and unofficial ratings can be followed on the website www.joeeitel.com. New Philadelphia will be seeking its first-ever playoff victory.

Johnson rushed 44 times for 188 yards and two touchdowns, both on 7-yard runs coming in the overtime sessions in the game played before a standing-room-only crowd of 8,000.

He now has more than 7,000 yards rushing in his career, standing No. 6 all-time in state history. He also caught six passes for 46 yards, but his interception and touchdown run in the third overtime is what will leave a lasting mark on this game.

"There was no doubt there that (Johnson) was going to get the ball every play, unless we were going to have to send out (Graham) Sabo to kick it," said New Philadelphia coach Matt Dennison. "What a resilient bunch of kids – they never once quit, they never once just decided that it was too much to overcome. I can't say enough about this group of players and the job they did tonight and all year long."

Dover coach Dan Ifft said he was extremely proud of the way the Tornadoes fought all game long, too.

"The kids fought all night, I can't fault their effort," said Ifft. "If we make it to Week 11, so be it. If not, we'll regroup, reload, and prepare for next year."

New Philadelphia actually looked like it would not even get to play a third session after missing a field goal attempt in the second overtime and then having Dover reach its 8-yard line for a third-down play. But the Tornadoes lost the ball on a fumble and with the new life, and then Johnson turned around and grabbed his interception on the very next play in the third extra session, in which Dover started with the ball.

When asked about whether he considered attempting a field goal on or prior to the play that resulted in the turnover in the second session, Ifft said he had hoped to move the ball to the side of the field his kicker prefers earlier in the series.

Dover trailed 14-7 at halftime but battled back to tie the game twice in the second half, first in the third quarter on Merrick Mamarella's second touchdown pass of the night to junior wideout Cory Contini, an 18-yard catch and run by Contini. Then Mamarella took the ball up the middle for a 21-yard scoring run to tie the game at 21-21 in the fourth quarter after New Philadelphia's Boston Waltz caught his second touchdown pass of the night from Caleb Beans earlier in the period.

Both teams scored in the first overtime, Mamarella found Evan Snyder all alone on the first play of the extra period for a quick 20-yard touchdown, but the Quakers answered back on a Johnson 7-yard run after a sputtering drive that included a holding penalty before Beans hooked up on key passes to JoVohn Morrow and Mitchell Pape to keep the Quakers alive.

Mamarella was masterful for most of the night, completing 32 of 49 passes for 354 yards and three touchdowns, but did suffer three second-half interceptions. Contini, who was injured late in the game, caught 16 passes for 168 tough yards and two pretty touchdowns.

Beans completed 17 of 25 passes for 172 yards and all three Quaker touchdowns to tight ends Boston Waltz (catches of 27 and 17 yards) and Morrow (5 yards).

The Tornadoes had 394 yards of total offense to 360 for New Philadelphia.

After a scoreless first quarter that featured a couple of big defensive plays – an interception of Beans by Dover junior Jordan Doughty and a big fourth-down stop by New Philadelphia's Casey Kinsey on an Alex Bowman run up the middle at the Quakers 21 – New Philadelphia got on the scoreboard first.

The Quakers drove 79 yards on 13 plays on the ensuing possession that took more than six minutes, and on a fourth-down-and-3 play at the Dover 5, Morrow slipped off the right side of the line and into the left corner of the end zone where Beans lobbed a pass for the TD and a 7-0 lead.

But the Tornadoes answered right back. Mamarella completed four straight passes to get Dover to the New Phila 11 before a big penalty and a couple of incompletions left the Tornadoes looking at fourth and 25 at the 30. That was no problem, though, as Mamarella threw over to the middle to a leaping Contini, who came down, pivoted to the middle and raced straight ahead for the tying score with 5:25 left before half.

New Philadelphia used another tight end play to take a 14-7 lead at halftime. Waltz caught a 27-yard catch-and-run scoring pass from Beans with 2:19 left in the second quarter. The Quakers blocked a field-goal attempt by the Tornadoes with four seconds left before halftime to take some momentum into the break..

The Quakers' losing streak to Dover began in 2006, covered seven consecutive years and included two games in 2008 (the regular season battle at New Phila and a playoff game the following week at Dover). Dover holds a 53-48-9 advantage in the all-time series between the schools, which is Ohio's third oldest continuing rivalry.

Johnson said his fatigue was worth every second.

"This was a total team effort all night long," he said. "You could just look in everyone's eyes in the huddle on every play and you knew they would not let each other down at all tonight. Wow, this is an incredible feeling."
Edited: Nov 02, 2013 3:24 AM by Benjamin Duer